Book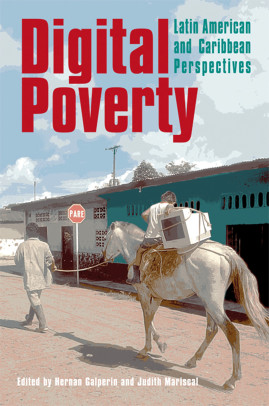 Digital Poverty
Latin American and Caribbean Perspectives
Hernan Galperin, Judith Mariscal
Published: 2007
Pages: 160

eBook: 9781780441115
Paperback: 9781853396632
This book represents the first publication of the Regional Dialogue on the Information Society (REDIS-DIRSI), a regional network of leading researchers concerned with the creation and dissemination of knowledge that supports effective participation in the Information Society by the poor and marginalized communities of Latin America and the Caribbean.

It reflects a diverse set of studies undertaken by DIRSI researchers under the common theme of pro-poor, pro-market ICT policies. This supports next-generation reforms that build on the achievements of market liberalization efforts but at the same time address the realities of what we call digital poverty - a concept that grasps the multiple dimensions of inadequate levels of access to ICT services by people and organizations, as well as the barriers to their productive use.
Prelims (Contents, The Regional Dialogue on the Information Society (REDIS-DIRSI), Foreword by Ben Petrazzini, Introduction by Hernan Galperin and Judith Mariscal)

1. The concept of Information Poverty and How to Measure it in the Latin American Context

Gover Barja and Björn-Sören Gigler

2. Analysis of ICT Demand:What Is and How to Measure Digital Poverty?

Roxana Barrantes

3. New Market Scenarios in Latin America

Judith Mariscal, Carla Bonina and Julio Luna

4. Institutional Design of the Regulator in Latin America and the Caribbean

Jorge Dussán Hitscherich and Juan Manuel Roldán Perea

5. Microtelcos in Latin America and the Caribbean

Hernan Galperin and Bruce Girard

6. Selecting Sustainable ICT Solutions for Pro-Poor Intervention

Kim I. Mallalieu and Sean Rocke

7. Conclusion – ICT and Pro-poor trategies and Research

Amy Mahan

Back Matter (About the Authors)
Hernan Galperin Hernan Galperin is Assistant Professor at the Annenberg School for Communication at the University of Southern California (USA) and Research Associate at the Universidad de San Andrés (Argentina). Dr. Galperin is also affiliated with the Stanhope Centre for Communications Policy Research (UK) and the Edelstein Center for Social Research (Brazil).
Judith Mariscal Dr. Judith Mariscal has extensive research experience in Information and Communications Technologies focusing on public policy and regulatory issues. She is currently a professor of the Public Administration Department from the "Centro de Investigacion y Docencia Economica's (CIDE)", an independent research and educational institution based in Mexico City.
A Companion to Latin American Literature and Culture
Screen Time
Bush, Matthew
2022
https://doi.org/10.1002/9781119692591.ch42
[Citations: 0]
Human Rights and Information Communication Technologies
ICTs and Gender-Based Rights
Ionescu, Ana-Cristina
2013
https://doi.org/10.4018/978-1-4666-1918-0.ch013
[Citations: 0]
Do Mobile Phones Help Expand Social Capital? An Empirical Case Study
Shema, Alain
Garcia-Murillo, Martha
Social Inclusion, Vol. 8 (2020), Iss. 2 P.168
https://doi.org/10.17645/si.v8i2.2592
[Citations: 1]
Poverty and Quality of Life in the Digital Era
Ηow Digital Poverty Affects Television Viewing Habits
Podara, Anna
Kalliris, George
2022
https://doi.org/10.1007/978-3-031-04711-4_5
[Citations: 0]
ICTs and Gender-Based Rights
Ionescu, Ana-Cristina
International Journal of Information Communication Technologies and Human Development, Vol. 4 (2012), Iss. 2 P.33
https://doi.org/10.4018/jicthd.2012040103
[Citations: 2]
International mobile roaming in the Caribbean
Sutherland, Ewan
info, Vol. 12 (2010), Iss. 4 P.39
https://doi.org/10.1108/14636691011057073
[Citations: 2]
Leveraging Information and Communication Technologies for Development (ICTD) in the Caribbean
Thakur, Dhanaraj
Geography Compass, Vol. 6 (2012), Iss. 1 P.1
https://doi.org/10.1111/j.1749-8198.2011.00467.x
[Citations: 2]
Toward a non-binary sense of mobility: insights from self-presentation in Instagram photography during COVID-19 pandemic
Dou, Gloria Yan
Media, Culture & Society, Vol. 43 (2021), Iss. 8 P.1395
https://doi.org/10.1177/01634437211008734
[Citations: 4]
Discontinuities in m-banking and development: Women who derive their livelihoods from agriculture in Maragua, Kenya
Muita, Nduta
Diga, Kathleen
Agenda, Vol. 30 (2016), Iss. 4 P.74
https://doi.org/10.1080/10137548.2017.1304699
[Citations: 0]