Book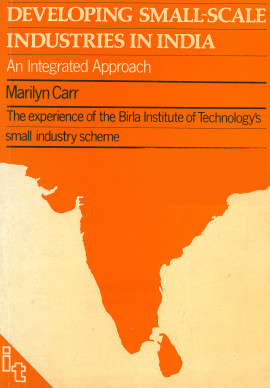 Developing Small-scale Industries in India
An Integrated Approach
Published: 1981
Pages: 96

eBook: 9781780441979
Paperback: 9780903031813
A detailed analysis, with case histories, of the Birla Institute of Technology. Their fifteen-year experience in developing and assisting small industries has become a classic example of how to approach the problem of developing small-scale industry in a truly integrated way.
Marilyn Carr
Marilyn Carr is Chief of the Economic Empowerment Section of the United Nations Development Fund for Women. She is a development economist with over 20 years experience in Asia and Africa and specializes in the fields of small enterprise development and technology choice and diffusion.
The dynamics of rural and agricultural mechanization: The role of different actors in technical and institutional change
Ashford, Tony
Biggs, Stephen D.
Journal of International Development, Vol. 4 (1992), Iss. 4 P.349
https://doi.org/10.1002/jid.3380040403
[Citations: 2]
Rural mechanisation: a review of processes, policies, practice and literature
Gass, G. M.
Biggs, Stephen D.
Project Appraisal, Vol. 8 (1993), Iss. 3 P.157
https://doi.org/10.1080/02688867.1993.9726905
[Citations: 7]