Book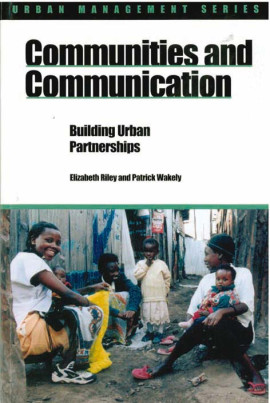 The current paradigm of partnership in urban development and management is widely used and accepted but there is little understanding of what makes partnerships work or fail. The broad premise that underpins this book is that a partnership is a relationship based on an agreement to share both benefits and risks. Three cities, one from each continent of the South, are studied for their complementary differences in experience and approach to local government and communication. Colombo has a long tradition of government support to community participation in slum upgrading but does not have a well-developed urban NGO movement. Nairobi has a well-organized urban NGO sector but the city has both a weak democratically-elected City Council and a centrally appointed Provincial Administration. Rio de Janeiro, which is considerably bigger than the other two cities, does not have a tradition of participation and recent municipal upgrading initiatives fail to demonstrate much meaningful resident involvement. What emerges is a picture of misunderstanding, mistrust and prejudice. The authors examine the potential of clearly focused NGOs to generate an awareness within and between low-income communities and local governments for new approaches to communication and capacity-building.
Foreword

The Urban Management Series

Acknowledgements

List of figures

List of maps

List of tables

List of abbreviations and acronyms

Introduction

Part I Partnership

1. Partnerships in urban governance

2. Building authentic partnerships

Part II The cities

3. Communities and communication in Colombo

Authored jointly with K.A. Jayaratne and Amarasiri de Silva

4. Communities and communication in Nairobi

Authored jointly with Wendy Taylor

5. Communities and communication in Rio de Janeiro

Authored jointly with Alberto Lopes

Part Ill Lessons

6. Cities in comparison

7. Lessons for partnerships

Appendix I: City profiles

Appendix II: Settlement profiles

Contributors

Notes

References

Index
Patrick Wakely
Patrick Wakely is Professor of Urban Development and Director of the Development Planning Unit at University College London. An architect by training, he has 40 years experience in over 20 countries.
Elizabeth Riley
Elizabeth Riley is a geographer with a PhD in Planning Studies. Until recently she was director of the MSc Programme in Housing Studies of the Development Planning Unit, University College, London