Book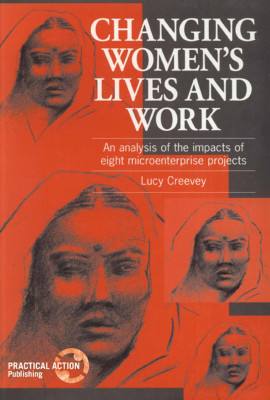 Changing Women's Lives and Work
An analysis of the impacts of eight microenterprise projects
Published: 1996
Pages: 240

eBook: 9781780444659
Paperback: 9781853393198
An in-depth analysis of eight microenterprise projects undertaken by three agencies in India, Bangladesh, Thailand, Peru, Guatemala, Honduras, Ghana and Tanzania. It is unique in its detailed presentation of such a varied range of individual projects, and in its use of a single analytical framework for all the projects, enabling comparisons to be tightly drawn between them. The study has generated some significant and controversial results. Looked at from the point of view of the women this book attempts to describe the impact of the different projects on their lives. This book is designed for planners and practitioners, graduate students, and others interested in the results of the microenterprise programmes now popular throughout the developing world.
PREFACE ix

ONE: Introduction 1

Framework for analysis 5

Sponsoring agencies: UNIFEM, ITDG and ATI 6

United Nations Development Fund for Women 7

Intermediate Technology Development Group 8

Appropriate Technology International 9

Strategy choice in eight SME projects 11

Ranking the countries 13

Research methodology 16

The questionnaires 16

Supporting research 19

Guide to the discussion 21

Setting the bias out front 21

Conclusion 23

TWO: Food Processing in Peru 24

Setting the context 24

Women in the Peruvian economy 26

The Peru Food Processing Project 29

Facing the field 32

The women's report 35

Conclusion 42

Annex 45

THREE: Honduras - Cashew Nut and Fruit Production 46

The state and the nation 46

Women in Honduras 47

The Honduran Cashew Project 1981-8 50

Events and challenges 52

The women's record 56

Conclusion 61

Annex 66

FOUR: Guatemala - Wool Production and Processing Project 67

Economy and politics 67

Guatemalan women 69

The Wool Production and Processing Project 71

Sheep and Wool Production 72

Wool Processing and Weaving 73

Commercial Enterprise 73

Overcoming the obstacles 74

Men and women react 78

The bottom line 86

Annex 90

FIVE: Bangladesh - Surjosnato Coconut Products 91

Poverty and hope 91

Growing forces of conservatism: women in Bangladesh 93

The Surjosnato Coconut Project 94

Dealing with the impossible 97

Women speak out 100

Balancing the results 106

Annex 109

SIX: India - The Sericulture Project 110

India and development 110

Indian women 111

The Women's Sericulture Project 114

Establishing the reality 118

Impacts on women 120

Assessing the record 127

Annex 131

SEVEN: Thailand - Venture Capital and the Pickled Ginger Group 132

The development miracle 132

Quiet power: Thai women 133

The Joint Venture Capital Project in Northern Thailand 135

Venture capital in action 138

Impacts and changes in individual lives 139

Expectations and reality 146

Annex 149

EIGHT: Ghana - Shea Butter Processing 150

Structural adjustment and development 150

Women in the marketplace 153

The Shea Butter Processing Project in Ghana 155

The project in the field 158

Many faces, many experiences

The reality of the Shea Butter Project

Annex

NINE: Tanzania - Food Processing

Climbing up the development ladder

Poverty and prospects: Tanzanian women

The Tanzania Food Processing Programme

The dream and the reality

Women's voices

Realizing the dream

Annex

TEN: A Comparison of the Impacts of Different Strategies . . .

Basis of comparison

Comparative data analysis

Findings

Significance of quantitative analysis findings

Conclusion

Annex

BIBLIOGRAPHY
Lucy Creevey
Dr. Lucy Creevey is Professor of Political Science Emeritus at the University of Connecticut. She has written numerous articles and monographs on the impacts of micro enterprise and micro finance programs, their participants, and the changing role and status of women in developing countries. Her current research is on Islam and democracy in Senegal and feminism and fundamentalism in Africa.
Analysing changing gender relations: Methodological challenges for gender planning
Locke, Catherine
Okali, Christine
Development in Practice, Vol. 9 (1999), Iss. 3 P.274
https://doi.org/10.1080/09614529953016
[Citations: 11]
Factors affecting nutritional status in female adults in Dhaka slums, Bangladesh
Pryer, Jane A.
Rogers, Stephen
Rahman, Ataur
Biodemography and Social Biology, Vol. 50 (2003), Iss. 3-4 P.259
https://doi.org/10.1080/19485565.2003.9989075
[Citations: 4]
A Review of Self Help Bank Linkage Programme in Krishna District: Andhra Pradesh
P. Raja, Babu
i-manager's Journal on Management, Vol. 11 (2017), Iss. 3 P.51
https://doi.org/10.26634/jmgt.11.3.8330
[Citations: 0]
Khadi & Village Industry: A Case Study of Khadi Institutions in India
Busenna, Pesala
(2014)
https://doi.org/10.2139/ssrn.2437382
[Citations: 1]
Harnessing the Hidden Enterprise Culture: the Street UK Community Development Finance Initiative
Williams, Colin C.
Local Economy: The Journal of the Local Economy Policy Unit, Vol. 21 (2006), Iss. 1 P.13
https://doi.org/10.1080/02690940500409519
[Citations: 2]
Enterprise across the digital divide: information systems and rural microenterprise in Botswana
Duncombe, Richard
Heeks, Richard
Journal of International Development, Vol. 14 (2002), Iss. 1 P.61
https://doi.org/10.1002/jid.869
[Citations: 68]
Southeastern Women's Involvement in Sustainable Development Efforts: Their Roles and Concerns
Lack, Evonne
Gamble, Dorothy N.
Journal of Community Practice, Vol. 5 (1998), Iss. 1-2 P.85
https://doi.org/10.1300/J125v05n01_06
[Citations: 0]
Globalization and the Margins
Globalization and Women: Gender and Resistance in the Informal Sector of Peru
Hays-Mitchell, Maureen
2002
https://doi.org/10.1057/9781403918482_7
[Citations: 2]
The Functions of Work-related Group Participation for Poor Women in Developing Countries: An Exploratory Look
Schein, Virginia E.
Psychology and Developing Societies, Vol. 15 (2003), Iss. 2 P.123
https://doi.org/10.1177/097133360301500202
[Citations: 11]
Khadi & Village Industry: A Case Study of Khadi Institutions in India
Reddy, Amarender A.
(2011)
https://doi.org/10.2139/ssrn.1969599
[Citations: 0]
Constructing Social Capital: Self-Help Groups and Rural Women's Development in India
LAHIRI-DUTT, KUNTALA
SAMANTA, GOPA
Geographical Research, Vol. 44 (2006), Iss. 3 P.285
https://doi.org/10.1111/j.1745-5871.2006.00390.x
[Citations: 28]