Book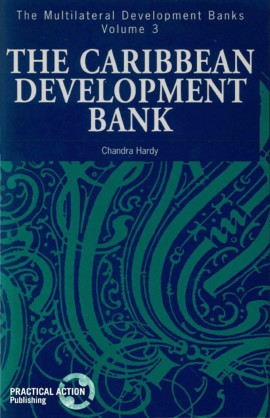 The Caribbean Development Bank has, over the last twenty-five years, focused its efforts on development of the Commonwealth Caribbean countries, and in particular, the seven small island states that form the Organization of East Caribbean States. It is small in comparison with the two development banks above it: the Inter-American Development Bank and the World Bank, but some of the advantages of smallness, as well as the proximity to and continuity of relations with the partner countries are demonstrated in this study.
List of Tables vii

Foreword, K. Dwight Venner ix

Preface, Roy Culpeper xi

Acknowledgments xiii

List of Acronyms xv

1 Introduction 1

Part 1 Historical Setting and Record of Performance

2 A Brief History of the Bank 9

Institutional Framework, 9

Bank Operations: Policies and Procedures, 17

3 Borrowing Country Experience 23

The Regional Economy, 23

Prospects for Growth by Sector, 27

4 Lending Operations 31

Infrastructure, 33

Agriculture, 35

Industry and Tourism, 37

Development Finance Corporations, 38

Regional Projects, 41

Social Sectors, 42

5 Country Studies 45

The OECS Countries, 45

Barbados, 56

Guyana, 60

Jamaica, 63

Part 2 Development Agenda

6 Resource Mobilization 73

Ordinary Capital Resources, 73

Special Fund Resources, 74

7 Development Agency Functions 83

Technical Assistance, 83

Economic Analysis and Policy Coordination, 87

Regional Cooperation, 90

8 Relations with the Other MDBs 93

IBRD/IDA Role in the Region, 93

Relations with the IDB, 97

9 Looming Development Challenges for the Bank 101

Overview of Strategy to Year 2000,104

Issues to Address, 105

Priorities for Lending, 108

Institutional Changes, 209

Long-term Development Strategy, 111

Appendix 113

Bibliography 119

Index 121

About the Book and Author 133
Chandra Hardy
Chandra Hardy is an associate of the International Development Training Institute in Washington, D.C. She worked from 1967 to 1988 in various posts at the World Bank in Washington, D.C, most recently as senior economist in the Asian region.