Book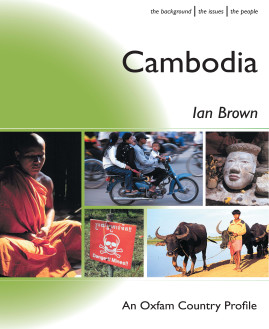 Cambodia
Published: 2000
Pages: 88

eBook: 9780855986728
Paperback: 9780855984304
This outstanding series provides concise and lively introductions to countries and the major development issues they face. Packed full of factual information, photographs and maps, the guides also focus on ordinary people and the impact that historical, economic and environmental issues have on their lives.
Learning to Trust

Cambodia today: a world of change

The history of Cambodia

Rural livelihoods at risk

Urban poverty

Women's lives

Living with landmines

Health care and education: empty promises?

Breaking the cycle of violence and mistrust

Elements of Cambodian culture

Cambodia at the crossroads

Facts and figures

Dates and events

Sources and further reading

Acknowledgements

Oxfam in Cambodia

Index
Memory and the everyday landscape of violence in post-genocide Cambodia
Tyner, James A.
Alvarez, Gabriela Brindis
Colucci, Alex R.
Social & Cultural Geography, Vol. 13 (2012), Iss. 8 P.853
https://doi.org/10.1080/14649365.2012.734847
[Citations: 38]
Land Titling Improves Access to Microcredit in Cambodia: Be Careful What You Wish For
Bateman, Milford
(2020)
https://doi.org/10.2139/ssrn.3557083
[Citations: 1]
Imagining Genocide: Anti-geographies and the Erasure of Space in Democratic Kampuchea
Tyner, James A.
Space and Polity, Vol. 13 (2009), Iss. 1 P.9
https://doi.org/10.1080/13562570902780902
[Citations: 8]
The rice cities of the Khmer Rouge: an urban political ecology of rural mass violence
Rice, Stian
Tyner, James
Transactions of the Institute of British Geographers, Vol. 42 (2017), Iss. 4 P.559
https://doi.org/10.1111/tran.12187
[Citations: 12]
Home SOS
References
2020
https://doi.org/10.1002/9781118898338.refs
[Citations: 0]
Phnom Penh during the Cambodian Genocide: A Case of Selective Urbicide
Tyner, James A
Henkin, Samuel
Sirik, Savina
Kimsroy, Sokvisal
Environment and Planning A: Economy and Space, Vol. 46 (2014), Iss. 8 P.1873
https://doi.org/10.1068/a130278p
[Citations: 17]