Book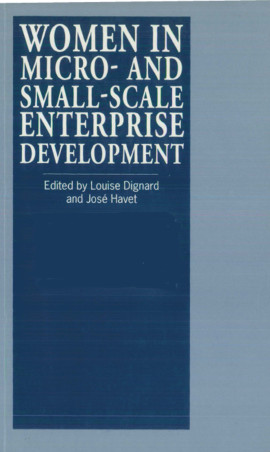 Women in Micro- and Small-Scale Enterprise Development
Published: 1995
Pages: 296

Paperback: 9781853392849
Women's role in enterprise development is now acknowledged as crucial, and a sense of urgency seems to beset all practitioners in the field. This book presents the complexity of women's situations in micro- and small-scale enterprises, and the importance of the issues being addressed, through the bringing together of contributions from practitioners and researchers. It provides a detailed analysis of current knowledge, and guidelines towards improved practice.
Introduction

Louise Dignard and Jose' Havet

PART I

Social Context and Main Issues

1 The Human Economy of Microentrepreneurs

lrene Tinker

2 Entrepreneurship and Small- and Microenterprise

Development for Women: A Problematique in Search

of Answers, a Policy in Search of Programs

Catherine van der Wees and Henny Romijn

PART I1

Case Studies

3 Women and Development Alternatives:

Micro- and Small-Scale Enterprises in India

Ela Bhatt

4 Women in Micro- and Small-Scale Enterprise

Development in Sri Lanka

Lakshmi Perera

5 Swedish International Development Authority's Support

to Women's Small-Scale Enterprises in Tanzania 117

Carolyn Hannan-Andersson

6 Women's Micro- and Small-Scale Enterprises'

Emergence, Features and Limits:

A Costa Rican Experience

lris Villalobos Barahona

7 Supporting Women in the Informal Sector:

A Peruvian Experience

Susana Pinilla Cisneros

PART I11

Components of Women's Micro- and Small-Scale

Enterprise Assistance

8 Key Issues on Women's Access to and Use of

Credit in the Micro- and Small-Scale Enterprise Sector 189

Marguerite Berger

9 Women, Technology and Small Enterprise Development 217

Marilyn Carr

10 Training Issues: Women in Micro- and Small-Scale

Enterprises in Africa 229

Thelma Awori

Bibliography

About the Book and Editors

About the Contributors

Index
Louise Dignard
Louise Dignard has been an international development consultant and is presently a Ph.D. candidate in sociology at Carleton University, Ottawa.
Jose Havet
Jose Havet is professor of sociology at the University of Ottawa and has published extensively on peasant and migration problems, particularly in Latin America.