Book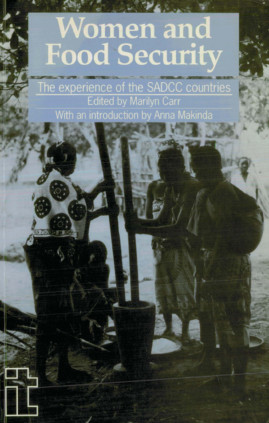 Women and Food Security
The experience of the SADCC countries
Published: 1991
Pages: 224

eBook: 9781780446455
Paperback: 9781853391095
Consists of papers on women's access to, and use of, improved food technologies in all areas, and addresses such factors as access to credit and training, involvement in technology and design, infrastructure and markets, and the policy environment. The experiences described have wide application outside Southern Africa
Marilyn Carr Marilyn Carr is Chief of the Economic Empowerment Section of the United Nations Development Fund for Women. She is a development economist with over 20 years experience in Asia and Africa and specializes in the fields of small enterprise development and technology choice and diffusion.
Land reform: still a goal worth pursuing for rural women?
Jacobs, Susie
Journal of International Development, Vol. 14 (2002), Iss. 6 P.887
https://doi.org/10.1002/jid.934
[Citations: 11]
Time Use Research in the Social Sciences
Biological and Sociocultural Perspectives on Time Use Studies
Wilcock, Ann
2002
https://doi.org/10.1007/0-306-47155-8_9
[Citations: 0]
FAMILY POLICIES AND EFFECTIVE FAMILIES: A LIFE COURSE PERSPECTIVE
Moen, Phyllis
Firebaugh, Francille M.
International Journal of Sociology and Social Policy, Vol. 14 (1994), Iss. 1/2 P.29
https://doi.org/10.1108/eb013185
[Citations: 5]
Gender and Land Reforms: Comparative Perspectives
Jacobs, Susie
Geography Compass, Vol. 3 (2009), Iss. 5 P.1675
https://doi.org/10.1111/j.1749-8198.2009.00257.x
[Citations: 6]
Workloads of rural African women: The impact of economic adjustment in Sub‐Saharan Africa
Barrett, Hazel R
Browne, Angela
Journal of Occupational Science, Vol. 1 (1993), Iss. 2 P.3
https://doi.org/10.1080/14427591.1993.9686378
[Citations: 8]
Role of Women in the Household Economy, Food Production and Food Security
Kotzé, Derica A.
Outlook on Agriculture, Vol. 32 (2003), Iss. 2 P.111
https://doi.org/10.5367/000000003101294352
[Citations: 16]
Women, occupation and health in rural Africa: Adaptation to a changing socioeconomic climate
Barrett, Hazel R.
Journal of Occupational Science, Vol. 4 (1997), Iss. 3 P.93
https://doi.org/10.1080/14427591.1997.9686425
[Citations: 8]