Book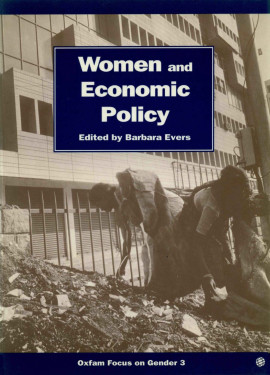 Women and Economic Policy
Published: 1993
Pages: 64

eBook: 9780855988722
Paperback: 9780855982607
The Focus on Gender; series makes available in book form the contents of the Oxfam journal Gender and Development. Highlighting practice as well as theory, the thematic series makes the resource available to students, researchers, practitioners and policy makers interested in particular topics. This volume is structured around two main themes: macro-economic policy and gender relations; and income-generation projects and empowerment. Covering a wide range of countries, the articles look at many different aspects of women's lives, the effects of economic policies and how women are adapting and organizing to enable their families and communities to survive.
Editorial

Barbara Evers

Gender relations and economic issues

Diane Elson

Structural adjustment - cure or curse? Immplications for Caribbean development

Peggy Antrobus

Changing from subsistence to cash cropping - Sakaramma's story

Rajamma G.

Gender, economic growth and poverty

Noeleen Heyzer

Struggles over patriarchal structural adjustment in Tanzania

Marjorie Mbilinyi

Filipino women demand freedom from debt

Judy Taguiwalo

Is liberalization damaging Albanian women's health

Chris Corrin

The other side of economic success - poverty, inequality and women in Chile

Stephanie Barrientos

Investment finance - off-limits for women

Christine Y. Chilangwa-N'gambi

NGOs and gender policy - some issues from the South Indian silk reeling industry

Linda Mayoux

Saptagram opens up windows of opportunity in Bangladesh

Tahera Yasmin

Empowerment through income generating projects

Rajamma G.

Through Western eyes - two poems

Bridget Walker

News from GADU

Sue Smith.