Book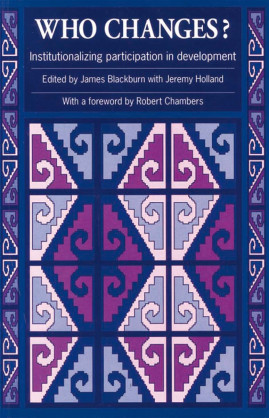 Who Changes?
Institutionalizing participation in development
James Blackburn, Jeremy Holland
Published: 1998
Pages: 216

eBook: 9781780446417
Paperback: 9781853394201
The recent trend of participatory approaches presents challenges to those working in the development sector.
Who Changes? draws together, for the first time, lessons and experiences from key development agencies around the globe on the institutional change needed to make participation a reality. The book explores the main issues and concerns of development professionals involved in PRA (Participatory Rural Appraisal) practices: adapting PRA methods from micro to macro organizations and the type of changes required by an organization to implement PRA effectively. In addition, the reader is provided with a checklist of practical considerations to guide them through this complex field: training programmes and training needs for all those involved in the participation programme, implementing projects from piloting stages to gradual scaling up, institutional change and the changing cultures and procedures of hierarchical organizations, and participatory monitoring and evaluation. Containing highly readable accounts and clear summaries by development workers from a variety of development settings across the globe, Who Changes? will be a valuable asset to all development professionals concerned with PRA approaches from fieldworkers to practitioners and policy makers.
List of figures, tables and boxes

Abbreviations

Acknowledgements

Foreword ROBERT CHAMBERS

1. General introduction

Part 1: The scaling-up of participatory approaches: opportunities

and dangers

2. Introduction to Part 1

3. Internalizing and diffusing the PRA approach: the case of

Ethiopia

DEREJE WORDOFA

Learning and internalizing

Diffusing the methodology and influencing others

New ways forward?

4. Scaling-up PRA: lessons from Vietnam

BARDOLF PAUL

Background to the Forestry Cooperation Programme

A systems approach to institutionalization

5. The rush to scale: lessons being learnt in Indonesia

NILANJANA MUKHERJEE

Country-wide participatory planning: how it happened

What we can learn from the experience

6. Scaling-down as the key to scaling-up? The role of

participatory municipal planning in Bolivia's Law of

Popular Participation

JAMES BLACKBURN and COSTANZA de TOMA

Scaling-down, Bolivian style

New roles for local institutions: the key to making the LPP work

State-sanctioned participatory planning: a contradiction in terms?

NGO-State relations and the LPP

A realignment of political forces

Participatory social assessment in an economy in transition:

strengthening capacity and influencing policy in Estonia

JOHN THOMPSON

The context

The challenge

The participatory social assessment (PSA)

Findings of Phase I

Learning from the past, building for the future

8. Scaling-up of participatory approaches through

institutionalization in Government Services: the case of

agricultural extension in Masvingo Province, Zimbabwe

JURGEN HAGMANN, EDWARD CHUMA and KUDAKWASHE MURWIRA

Concept and approach for participatory innovation development

and extension

Strategy for institutionalizing the participatory approach

Lessons learnt from experience

Conclusions and recommendations

9. Scaling-up or scaling-down? The experience of

institutionalizing PRA in the slum-improvement

projects in India

KAMAL KAR and SUE PHILLIPS

Background

Problems of scaling-up

Efforts to scale down and create small examples of sustained

community action

Lessons learnt and conclusions

Part 2: Organizational change: the key to institutionalizing

participation?

10. Introduction to Part 2

1 1. The participatory watershed development implementation

process: some practical tips drawn from OUTREACH in

South India

JAMES MASCARENHAS

Stage 1: preparation time and the creation of self-help groups

Stage 2: participatory planning processes and procedures

Stage 3: the implementation plan

Stage 4: withdrawal from the micro-watershed

Conclusion

12. Introducing participatory learning approaches in the

Self-help Support Programme, Sri Lanka

MALLIKA SAMARANAYAKE

National Development Foundation (NDF), partner of Self-SP

Institutional changes resulting from the wholesale adoption of

participatory methodologies 1990-94

Key factors emerging from the programme's reorientation

Constraints generally faced by NGOs when attempting to

institutionalize participatory approaches

13. Participatory management or community-managed

programmes? Reflections from experience in Somaliland

SAM JOSEPH

New roles for development managers

Rethinking project management

14. Participatory environmental management: contradiction of

process, project and bureaucracy in the Himalayan Foothills

ANDREW SHEPHERD

Recent paradigm shifts

Participation and Indian bureaucracy

The question of targets in participatory projects

How to merge project activities with people's priorities

Lessons for paradigm shifters

15. Taking on the challenge of participatory development at

GTZ: searching for innovation and reflecting on the

experience gained

HEINRICH EYLERS and REINER FORSTER

Background to GTZ's experience

Some lessons from GTZ-supported projects

Reorientations and challenges for GTZ as an organization

16. Participatory Approaches in Government Bureaucracies:

Facilitating Institutional Change

JOHN THOMPSON

Recognizing the need for institutional change

Training for transformation?

The institutional learning and training cycle

Charting the course from participatory rhetoric to participatory

reality

Part 3: Where do we go from here?

17. Introduction to Part 3

18. Current challenges facing participatory rural appraisal

ROBERT LEURS

Challenges facing PRA at the individual level

Challenges facing PRA at the colllrnunity level

Challenges facing PRA at the organizational level 128

Challenges facing PRA at the projectlprogramme level 129

Challenges facing PRA at the policy level 131

Challenges facing PRA at the donor level 132

Conclusions 133

19. Reflections and recommendations on scaling-up and

organizational change

IDS WORKSHOP 135

Enabling conditions for scaling-up 135

Dangers of rapid scaling up for PRA practice 137

Recommendations for quality PRA training and field practice 138

Recommended actions for communities and local groups, NGOs

and donors 142

Recommended actions for those involved in shifting organizations

to more people-centred and participatory approaches 1 44

20. Towards a learning organization - making development

agencies more participatory from the inside

IDS WORKSHOP 145

Understanding the issue 145

Procedures 147

Systems and Structures 148

21. The Scaling-up and Institutionalization of PRA: lessons and

challenges

JOHN GAVENTA 153

Micro-macro linkages 153

The dimensions of scaling-up 154

Scaling-out: increasing the types of quality of participation 156

Scaling-up: increasing the quantity of participation 159

Institutional change 161

Summary and questions for future research 163
Jeremy Holland Jeremy Holland is Lecturer at the Centre for Development Studies at the University of Wales Swansea