Book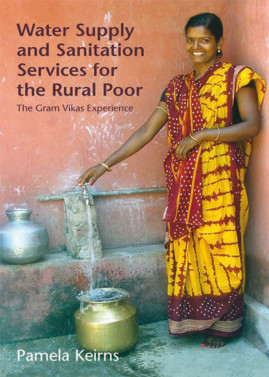 Water Supply and Sanitation Services for the Rural Poor
The Gram Vikas Experience
Published: 2007
Pages: 144

eBook: 9781780440422
Paperback: 9781853396540
Safe drinking water near to the home and adequate household sanitation save poor households time, reduce illness and increase a sense of well being and dignity. Gram Vikas, a non-government organization working in one of the poorest states in India, recognized this key role and encouraged villages to agree to a pact - water and sanitation for every house in the village - in return for labour and a percentage of the costs.
Fundamental to the process was a growing sense of empowerment, so that once the building was finished whole villages were ignited to drive their own development projects. This book describes how Gram Vikas engaged with new villages and carried out the programme, how costs were met by the households, government and donors, and the resulting impacts on health,education and livelihoods. Finally the question is asked: can this international award-winning approach be scaled - up to increase sustainable coverage of water and sanitation and combat poverty worldwide?
Prelims (Contents, Boxes, Figures, Photos, Maps, Tables, Abbreviations and acronyms, Preface)

1. Water and Sanitation - Breaking the Poverty Cycle

2. Water and Sanitation in India

3. Introducing Gram Vikas

4. Initiating the RHEP

5. Project implementation, monitoring and evaluation

6. Programme Outcomes and Impact

7. Financing Gram Vikas's water and sanitation programme

8. Generalizing the approach and scaling up

Back Matter (Endnotes, Appendices 1-3, References, Index)
Innovations in Doing and Being: Capability Innovations at the Intersection of Schumpeterian Political Economy and Human Development
Ziegler, Rafael
Journal of Social Entrepreneurship, Vol. 1 (2010), Iss. 2 P.255
https://doi.org/10.1080/19420676.2010.511818
[Citations: 39]
Scaffolding: A Process of Transforming Patterns of Inequality in Small-Scale Societies
Mair, Johanna
Wolf, Miriam
Seelos, Christian
Academy of Management Journal, Vol. 59 (2016), Iss. 6 P.2021
https://doi.org/10.5465/amj.2015.0725
[Citations: 114]
Social Entrepreneurship
Capability Innovation – Social Entrepreneurship und soziale Innovation aus Entwicklungsperspektive
Ziegler, Rafael
2011
https://doi.org/10.1007/978-3-531-92819-7_20
[Citations: 1]
Toilets Can Work: Short and Medium Run Health Impacts of Addressing Complementarities and Externalities in Water and Sanitation
Duflo, Esther
Greenstone, Michael
Guiteras, Raymond P.
Clasen, Thomas
(2015)
https://doi.org/10.2139/ssrn.2654864
[Citations: 1]
Scaling Social Innovations: The Case of Gram Vikas
Chowdhury, Imran
Santos, Filipe M.
(2010)
https://doi.org/10.2139/ssrn.1553070
[Citations: 3]