Book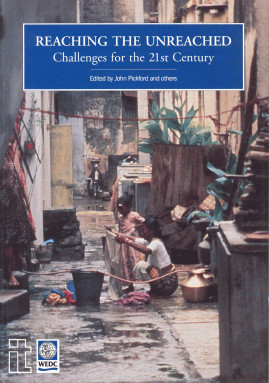 Reaching the Unreached
Challenges for the 21st century
Published: 1997
Pages: 204

eBook: 9781780445717
Paperback: 9781853394126
A selection of papers from the 22nd WEDC conference, aiming to find ideas and techniques which will aid fieldworkers in planning, operating and maintaining water and sanitation to 'reach the unreached'. Covering an extensive range of topics, including management, people and health, and emergency situations, the book adopts a multi-directional approach to tackle this challenging task.
Section A MANAGEMENT

Tom Armstrong and Hukumraj Thapa Nepal

Step-wise approach to rural schemes

Robert A. Boydell India

Scaling up rural water and sanitation projects

J.R. Calvert and R.W.A. Franceys WEDC

Management development for public health: India

Barbara Evans I d a

Institutional incentives and urban sanitation

Rakesh Mehrotra and Naresh Kumar India

Pricing of water - mechanisms and policy

Usha P. Raghupathi India

Financing options for water supply

Dr Kevin Wall and Ms Lenyalo Motsei South Afica

Engineering the unreached: South Africa

Section B COncMUNIv ANAGEMENT

A.N. Alwani India

Role of government, NGOs and private bodies

Liz Juppenlatz Netherlank

Paperwork or people?

Jeremy Ockelford, Jan-Willem Rosenboom and Bent Kjellerup Cambodia

A VLOM framework for Cambodia 36

Dr Z. Phiri Zambia

Community-based approaches - the mythology

Richard W. Pollard Indonesia

The people's choice: community management of RWS

Kevin Sansom India

Water engineers and community management

Daniel Schotanus and Binyam Yoseph Ethiopia

From confrontation to co-operation

Section C PEOPLE AMl HEALTH

Dr Mary Elmendorf USA

Priorities, challenges and strategies: a feminine perspective

Ms Renu Gera India

Rainwater harvesting and empowerment of women

Bilqis Amin Hoque and Nahid Amin Bangladesh

Social mobilization for sanitation

Monique Meiring South Apica

Women involvement: empowerment or disempowerment?

Jayanta Ray India

Empowerment of women for sustainable development

Sk Abu Jafar Shamsuddin Bangladesh

Communication approaches in sanitation promotion

Dr Karen Stoufer and Ron Stoufer Nepal

The role of local womensf NGOs

Section D WATER RESOURCES AND USE

M. Feroze Ahmed Bangladesh

Coastal water supply in Bangladesh

Charles Batchelor, Chris Lovell, John Chilton and Isiah Mharapara UK

Development of collector well gardens

Dorji Choden Bhutan

Rural water supply experience in Bhutan

Lyes Ferroukhi and Srinivas Chokkakula Sweden

Indigenous knowledge of water management

Diederik Prakke Bhutan

Intake design for small streams

Dr K.C.B. Raju and Lyes Ferroukhi Sweden

Water harvesting in coastal areas

Brian H. Skinner WEDC

Handpump standardiiation

Ian Smout WEDC

Irrigation project evaluation, Takeo, Cambodia

Section E WASTEWATER AND ITS TREATMENT

Mrs Shyamala Krishna, Bhatta, Bamerjee, John and Channabasappa I&

Alternative sewage treatment gives fuel and manure . 113

C.N.A. Ratnam Sozctlz Afi-ica

Treated sewage effluent for agriculture 116

M.D. Smith, Jeremy Parr and R.M. Stear WEDC

Seawater for non-potable uses

Dr S.L. Tang Hong Kong

Strategic sewage disposal in Hong Kong

Section F WATER QUALITY AND SUPPLY

Eli Dahi Denmark

Contact precipitation for defluoridation of water 129

Paul Luxton and Professor Nigel Graham UK

Natural fabrics in slow sand filtration

G.L. McConnachie, A.M. Warhurst, S.J. Pollard and V. Chipofya UK

Activated carbon h m Moringa husks and pods 137

Nur Muhammad, Ken Ellis, Jeremy Parr and Michael D Smith WEDC

Optimization of slow sand filtration 141

Robert H. Reed UK

Sol-air water treatment

Section G SOLID WASTE AND SANITATlON

L.M. Austin South Afi-ica

STED systems in South Africa

Andrea E. Cook, Ashim Chowla and Deepa Joshi India

Sanitation needs of the urban poor in Lucknow

Mark Harvey I&

Impmving urban sanitation services in Lucknow

S. Lahiri Philzppines

Self-help incremental sanitation approach

Dr Bindeshwar Pathak India

NGO's role in sanitation sector

Roger Pfammatter and R. Schertenleib Swifierland

Non-govemenftal refuse collection systems

M.H. Rahman, M.A. Mottalib and M.H. Bhuiyan Bangladesh

A study on biogas technology in Bangladesh

K.S. Ramasubban and B.B. Samanta Irza'zlb

Integrated sanitation project in Midnapore

Darren Saywell WEDC

Sanitation for %he urbam poor

Chandan Sengupta Indri?

Pollution travel from leach pits

Section H EMERGENCY SITUATIONS

Sarah House and Bob Reed WEDC

Rapid assessment of emergency water sources

Alp Ozerdem UK

Water under fire
John Pickford John Pickford (1927-2006) founded the Water Engineering and Development Centre at Loughborough University 40 years ago.