Book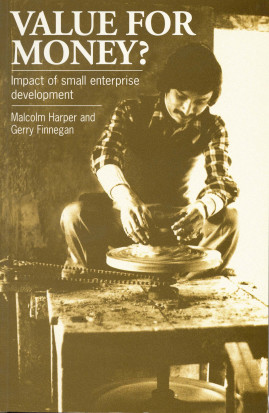 Value for Money?
The impact of small enterprise development
Malcolm Harper, Gerry Finnegan
Published: 1998
Pages: 152

eBook: 9781780441009
Paperback: 9781853394362
Value for Money? is the first book to systematically evaluate, measure and review the costs and benefits of small enterprise programmes through a range of examples of best practice from within the field. The authors have drawn on their extensive experience in business and as consultants within the enterprise development industry for this extensive study. They show that it is possible to measure and compare the costs and benefits of small enterprise development programmes, and that donors, NGOs, tax-payers and small business people themselves should demand that those who are responsible for such programmes must demonstrate that they are providing value for money. Value for Money? will be an invaluable guide to all those involved in small enterprise development programmes.
Fore word

Preface

Acknowledgements

List of Acronyms and Abbreviations

List of Boxes

Chapter 1. Introduction

Current Trends in Evaluation

The Structure of the Book

Chapter 2. What is Small Enterprise Development?

The Variety. of Project Objectives

Chapter 3. The Evaluation of SED Training

Evaluation of EDPs

McClellandls Evaluation in lndia

The GTZ Survey of EDP Evaluation

The ILO ENTIMAN Survey

The ODA Study in lndia

Evaluation Study by Industrial Development Bank of lndia

The Stugy by Entrepreneurship Development Institute of lndia

Entrepreneurship Development in the Philippines

The CEFE Global Evaluation

Early Evaluations of CEFE in Nepal

Recent Evaluations of CEFE in Sri Lanka

Evaluation of the Graduate Entreprise Programme (GEP)

Cranfield (UK)

The ILO's "Improve Your Business" Programme (IYB)

ILO's MATCOM Programme

Chapter 4. The Evaiuation of Technology Programmes

The Intermediate Technology Development Group (ITDG)

Other Technology Programmes

Evaluation of Incubator Units

Chapter 5. Other Evaluation Experiences

Evaluation of ILO Programmes

World Bank Evaluation Studies

Evaluation of Other Programmes

NGO Programmes in Latin America and the Philippines

CARE'S Evaluation Framework

Aga Khan Rural Support Programme (AKRSP) in Pakistan

The SIDO/GTZ Crafts and Small Enterprises

Promotion (CSEP), Tanzania

Chapter 6. The Evaluation of Micro-Finance Programmes

Evaluation Issues for Micro-Finance Schemes

Evaluation Studies of Micro-Finance Schemes

Chapter 7. Outstanding Issues in Evaluation

Client as Customer

Who Benefits?

Separating Effects

Whose Time-frame?

Levels of Evaluation

A Hierarchy of Evaluation Measures

Training in Evaluation Techniques

Life Expectancy of Enterprises

Calculating Costs and Benefits

The Jury is Still Out on Small Enterprise Development

Chapter 8. The Mechanics of Evaluation

Who should Evaluate?

When should Evaluation Take Place?

What Measures Should Be Used?

Evaluating Other Non-financial Support Programmes

Chapter 9. Guidelines for the Future

The MSE Registration and Evaluation Form

Summary Sheet of ILO's SYB programmes

MSE GroupJFIT Partner Evaluation Form

Bibliography
Malcolm Harper
Malcolm Harper taught at Cranfield School of Management until 1995, and since then has worked mainly in India. He has published on enterprise development and microfinance. He was Chairman of Basix Finance from 1996 until 2006, and is Chairman of M-CRIL, the microfinance credit rating agency.
Gerry Finnegan
Gerry Finnegan is currently Specialist and Proprietor at International Development Assistance, Belfast. In the past, he wasDirector of Lusaka Office; Representative for Malawi, Mozambique and Zambia at International Labour Organization (ILO)
Does Training Improve the Business Performance of Small-Scale Entrepreneurs?
Friedrich, Christian
Glaub, Matthias
Gramberg, Kristina
Frese, Michael
Industry and Higher Education, Vol. 20 (2006), Iss. 2 P.75
https://doi.org/10.5367/000000006777699847
[Citations: 11]
The challenges of integrating entrepreneurship education in the vocational training system
Nafukho, Fredrick
Nkirina, Severina P.
Journal of European Industrial Training, Vol. 34 (2010), Iss. 2 P.153
https://doi.org/10.1108/03090591011023998
[Citations: 10]
My Business Pays Me: Labourers and Entrepreneurs Among the Self-Employed Poor in Latin America
Eversole, Robyn
Bulletin of Latin American Research, Vol. 22 (2003), Iss. 1 P.102
https://doi.org/10.1111/1470-9856.00066
[Citations: 8]
Hanoi's Ancient Quarter Traders: Resilient Livelihoods in a Rapidly Transforming City
Turner, Sarah
Urban Studies, Vol. 46 (2009), Iss. 5-6 P.1203
https://doi.org/10.1177/0042098009103861
[Citations: 13]
Change Makers? Women's Microenterprises in a Bolivian City
Eversole, Robyn
Gender, Work and Organization, Vol. 11 (2004), Iss. 2 P.123
https://doi.org/10.1111/j.1468-0432.2004.00225.x
[Citations: 23]
Entrepreneurship education: an insight from Malaysian polytechnics
Zahari Ismail, Mohd
Zamberi Ahmad, Syed
Journal of Chinese Entrepreneurship, Vol. 5 (2013), Iss. 2 P.144
https://doi.org/10.1108/JCE-02-2013-0003
[Citations: 12]
The Role of Credit for Small Business Success
Kuzilwa, Joseph Andrew
The Journal of Entrepreneurship, Vol. 14 (2005), Iss. 2 P.131
https://doi.org/10.1177/097135570501400204
[Citations: 55]