Book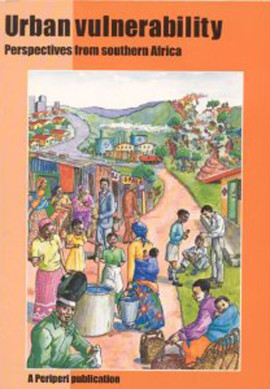 Urban Vulnerability
Published: 2002
Pages: 220

Paperback: 9780855984915
This text aims to stimulate debate about risk reduction in urban settings and to identify key issues for further advocacy. The authors propose a conceptual framework for understanding urban vulnerability and link the concept with disaster risk.
Forward

Acknowledgements

Introduction

Christina Nomado

Part 1: Understanding urban vulnerability

Chapter 1: Urban vulnerability: A conceptual framework, Erika Coetzee

Chapter 2: Dimensions of urban environmental risk

Part 2: The Southern African context

Chapter 3: Urban challenges in southern Africa

Urban poverty and governance in southern Africa:

Local governments and urban poverty reduction in eastern and southern Africa, George Motovu

Challenges facing local governments in the SADC region with regard to their role in sustainable development, David Kithakye

Urban challenges in five southern African countries:-

Zambia, Darren Hedley, Malekiado Phiri and Liseli Bull-Kamanga

Mozambique, Vicento Vasco

Zimbabwe, Marck Chikanza

Malawi, Ruth Butao Ayoade

South Africa, South Africa's Urban Development Framework (1997)

Part 3: Case studies from southern Africa: Strategies for addressing urban vulnerability

Chapter 4: Increasing access to services, assets and opportunities

Case study 1: The Ntwanano Project: Urban vulnerability and youth - Maputo, Mozambique, Vincent Vasco

Case Study 2: The CSC-GTZ Urban Poverty Alleviation Project

Urban vulnerability and service delivery - Lilongwe and Mzuzu City, Malawi, Ruth Batao Ayoade

Case study 3: Partnership for adolescent Sexual and Reproductive health Project (PALS): Urban vulnerability and health - Ndola, Lusaka and Livingstone, Zambia, Francis K. Chanda

Chapter 5: Increasing security in the urban enviroment

Case study 4: Food security and nutrition: A comparison of rural and urban situations - Mozambique, Carina Ismael and Stephan Meershoek

Case study 5: MANDISA: Monitoring, Mapping and Analysis of Disaster Incidents in South Africa: Urban vulnerability and disaster mitigation, Christina Nomdo/Disaster Mitigation for Sustainable Livelihoods Programme

Case study 6: Incineration of obsolete pesticides: Urban vulnerability and waste management - Motola, Mozambique, Manuela D, Rassel and Jorge Guzman

Chapter 6: Increasing participation in urban development

Case study 7: PROSPECT (Programme of support for poverty Elimination and Community Transformation): Urban vulnerability and governance - Lusaka, Zambia

Darren Hedley, Malekiado Phiri and Liseli Bull-Kamanga

Case study 8: Local Government & Gender Project: Urban vulnerability and women in governance - South Africa Gender Advocasy Programme

Case study 9: Integrated Urban Development Project: Urban vulnerability and integrated planning - Chitungwiza, Zimbabwe, Marck Chikanza

Conclusion

Christina Nomdo.