Book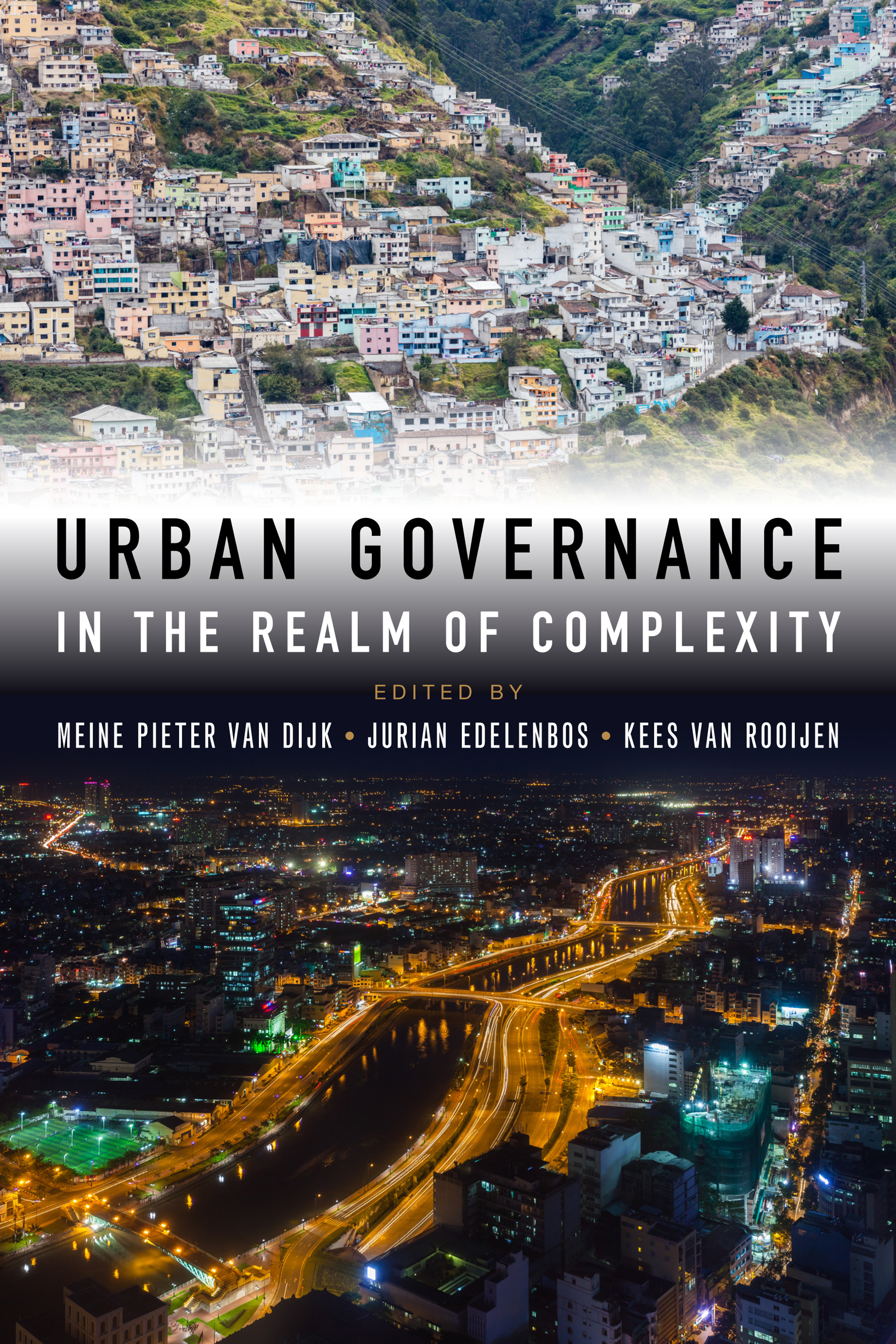 The challenge in the face of growing urban complexity is to foster new forms of urban governance through collective action, urban governance networks, and new forms of multi-level governance. New approaches to urban governance are arising to stand alongside technical or management solutions. Governance structures based around interest groups and issues are important new players in the urban environment. Self-organized networks can also play their part as sources of innovation, and need not be seen as undermining the influence of authorities.
Urban Governance in the Realm of Complexity presents cases from India, Ghana, Lebanon, Indonesia, China, Vietnam, Ecuador and Macedonia, based around topics from climate change and the environment, flood-risk planning, to sustainable transport systems. Issues include new ways of financing urban infrastructure through public--private partnerships, the governance structure to support ecological services in urban areas, and the involvement of market sellers in redesigning the market space and cyclists in creating alternative transport networks. The conclusion is that more attention should be paid to sustainable governance in urban development, in order to cope with the numerous ambitions, interests and values co-existing in the cities of today.

This book should be read by students, researchers and government officers concerned with urban planning and public administration as well as those involved in urban non-government organizations, community-based organizations and citizen-led development.

1. Introduction: From urban management towards urban governance
Jurian Edelenbos and Meine Pieter van Dijk
Part I: The emergence of new forms of urban governance through collective action
2. 'Pushed to the bush'? Changes in resettlement approaches in India
Maartje van Eerd
3. Innovation of handicraft exporters in emerging economies
Jan Fransen
4. The urban governance of Climate Change Adaptation: Exploring the public and private responsibilities for flood hazard reduction in Ho Chi Minh City, Vietnam
Veronica Olivotto and Alberto Gianoli
5. Building trust in complex urban regeneration partnerships
Carley Pennink
6. Governance and sustainable solid waste management in Ghana
Sampson Oduro-Kwarteng, Meine Pieter van Dijk and Kafui Afi Ocloo
7. Multiple Criteria Analysis in low-carbon urban development: A review of applications in developing and transitional economies
Stelios Grafakos and Elena Marie Enseñado
Part II: The role of participation, in particular through self-organizing networks
8. Enabling and constraining conditions for boundary spanning in community-led urban regeneration: a conceptual model
Ingmar van Meerkerk, Maria Zwanenburg and Maartje van Eerd
9. Surrogate governance and self-organization in Tripoli, Lebanon
Dayana Al Alam and Alexander Jachnow
10. Collective engagement: Picking up after the storm in the Philippines
Therese Audrey O. Estaban
11. Urban planning and self-organized citizens' networks in post-transitional societies in South-Eastern Europe: A case study of city of Skopje
Katarina Mojanchevska
12. Biking as governance: Positioning urban cycling in Quito
Elisa Puga and Alexander Jachnow
Part III: The importance of sustainable governance 13. Transition towards sustainable mobility: Opportunities and challenges for sustainable benefits assessment in decision-making
Somesh Sharma and Harry Geerlings
14. Institutional arrangements for integrated flood management in the Ciliwung-Cisadane river basin for Jakarta Metropolitan Area, Indonesia
Bramandita Resa Kurnia Dewi and Jacko van Ast
15. Governance of urban eco-initiatives in Beijing in times of climate change
Meine Pieter van Dijk and Xiao Liang

'This volume presents an intriguing overview of emerging new governance structures in complex urban environments in a variety of developing countries such as India, Vietnam and Ghana. This book focuses around three themes: the emergence of new forms of urban governance through collective action, the role of participation, in particular through self-organizing networks and the importance of sustainable governance. The authors show that the shift from urban management towards urban governance approaches that started in Europe can now also be observed, in their own specific way, in developing countries. This well written book is a must read for academics and professionals interested in urban governance in developing countries.'
Leo van den Berg, professor emeritus in Regional Economics and Urban Management, Erasmus University Rotterdam
'This publication is timely and its contents appropriate. Its main topics are currently high on the international agenda and will enjoy therefore full attention at all levels.'
Mingshun Zhang, Director and Professor, Beijing Climate Change Research and Education Centre, Beijing University of Civil Engineering and Architecture
'In good IHS tradition, this book captures a new mood in human settlements practice and scholarship. In the chapters of this insightful book, there is a new emphasis on public–private–community partnership, contractual solutions and institutional and incentive alignment. There is a willingness to believe in the power of cities to self-organize. There is a healthy scepticism of planned action along with a measured appreciation of the need for coordination of collective action. There is less of a presumption about which agency is best placed to organize the collective action that makes cities bearable, and in the end, prosperous. There is a realism about the threats posed by the natural, economic and political insecurities faced by cities in the 21st century. All this is not just pragmatism; it is a maturing of applied urban scholarship. Understanding the political economy of cities in terms of common resource problems and collective action solutions; and developing powerful case studies and stories to support and refute formal theories of the same, which are rooted in evidence-based and plausible models of individual motivation and collective dynamics, will not only improve urban scholarship it will help it survive and prosper.'
Chris Webster, Dean, FoA and HKUrbanLab, University of Hong Kong