Book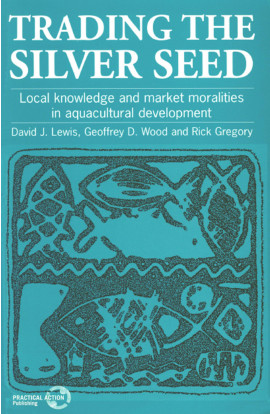 Trading the Silver Seed
Local knowledge and market moralities in aquacultural development
David Lewis, Geoffrey Wood, Rick Gregory
Published: 1996
Pages: 210

eBook: 9781780446257
Paperback: 9781853393426
This is the first study of social, economic and technical aspects of aquaculture in Bangladesh. The authors analyse rural society through the trading activities necessary in aquaculture. These insights have practical implications and this book shows how it is possible to build on existing relationships and technologies and facilitate innovative poverty-focused strategies. This study of the fish trading network demonstrates that a preoccupation with high technology 'quick fix' solutions in development may overlook the indigenous problem-solving strategies of local people and documents a particularly striking example.
Acknowledgements v
List of Tables and Figures ix
List of Diagrams X
Introduction 1
PART I: PONDS, PROTEIN AND THE POOR 7
Chapter 1: Aquaculture in Bangladesh 9
The setting: rural Bangladesh 9
Fisheries in Bangladesh 20
Aquaculture 23
The region 27
The study methodology 28
Organization of the material 30
Chapter 2: Markets, entrepreneurs and intervention 33
Introduction: the policy context 33
Aquaculture: state, market and community 35
Rural markets 36
Aquaculture markets - 41
Entrepreneurship and innovation 43
Intervention issues ' 46
PART II: THE FISH TRADING NETWORK-TRAINS;
BUSES AND RICKSHAWS 51
Introduction: an overview of the trading system 53
Chapter 3: Finding the silver seed 55
Wild hatchling collection 55
Hatchery production 60
Fingerling production 64
Chapter 4: Wholesalers at the station 71
The station market 71
Chapter 5: Into the rural hinterland 77
Fingerling traders and transportation 77
Management of food fish ponds 86
Chapter 6: Netting the catch 93
The decline of traditional fisherfolk 93
Food fish markets and traders 101
PART III: POVERTY, MARKETS AND PROJECTS 113
Chapter 7: Risky transactions 115
The power of knowledge 115
Risk management 117
Credit, prices and profits 120
Interlocked markets 124
Chapter 8: Social preconditions of markets-the test
case of cultured fish 127
Aquaculture and agrarian structure 127
Markets, trust and morality 131
The absence of formal law 136
Winners and losers 143
Chapter 9: Improving opportunities for the poor 147
Possibilities considered 147
'Off the page and into the pond' 153
'Indigenizing' extension: the extension trader experiment 154
Appendices
1 Wild hatchling collection 167
2 The hypophysation process 168
3 Techniques of fingerling transportation 169
4 Water quality in the carrying vessels 173
5 Station trading data (seasonal distribution by species) 176
6 Price data 181
Glossary 185
Specialist terms 187
Bibliography 189
Index 195

David Lewis
David Lewis is professor of social policy and development at London School of Economics who specialises in development policy and management, with a particular interest in Non-Governmental Organisations and civil society, and whose work has mainly had a geographical focus on Bangladesh
Rick Gregory
Rick Gregory is a freelance consultant, based in Thailand.