Book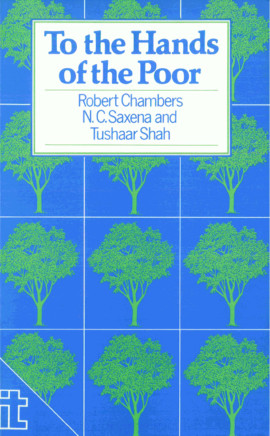 Confronts the paradox of mass poverty coexisting with vast resource potentials in rural India, such as the potentials from groundwater and trees, previously underestimated. Combines empirical research with practical political economy.
Preface
List of Figures
List of Tables
PART ONE: THE PARADOX OF POVERTY
Chapter One: Poverty and Priorities 3
Chapter Two: The Poor and the Potentials
Chapter Three: Who Gains and Who Loses?
PART TWO: LIFT IRRIGATION AND THE POOR ,
Chapter Four: Access to Water through Groups
Chapter Five: Access to Water through Markets
Chapter Six: Practical Policy
Chapter Seven: Forestry for Livelihoods 143
Chapter Eight: Why Small Farmers Don't Plant Trees
Chapter Nine: A New Charter for the Poor
PART FOUR: PRACTICAL STRATEGY
Chapter Ten: Analysis and Action

Robert Chambers
Professor Robert Chambers is a research associate of the Institute of Development Studies, Sussex, UK, which has been his base since 1969 with periods in other countries. His educational background is in natural sciences, history and public administration. His main administrative and research experience in development has been in East Africa and South Asia. He is widely recognized as one of the main driving forces behind the great surge of interest in the use of Participatory Rural Appraisal around the world. He has been a Fellow at the Institute of Development Studies since 1972 and is an author, co editor and contributor of many books.