Book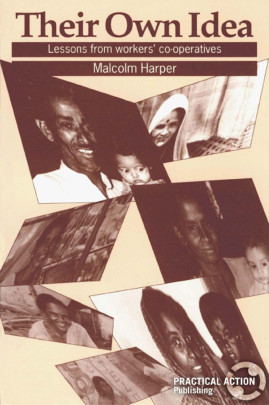 Their Own Idea
Lessons from workers co-operatives
Published: 1992
Pages: 160

eBook: 9781780440989
Paperback: 9781853391392
Written for those whose job it is to assist people to start their own businesses, or who are considering the merits of group as opposed to individual enterprise, this book looks at 13 case studies which all contain important lessons.
Foreword vii

1. Introduction: What are workers'co-operatives? 1

2. Formal workers' co-operatives in industrialized

countries 7

3. Industrialized country successes: kibbutzes and

Mondragon 21

4. Three British failures: Kirkby, the Scottish Daily

News, and Meriden 30

5. The developing country experience 41

6. Introduction to the case studies 50

The Puri Road Coir Business, India 53

The Das Brothers Plastic Moulders, India 58

The Ibadan Co-operative Tailors' Society, Nigeria 64

The Thusano Silversmiths, Botswana 69

The Nia Welders' Society, Tanzania 77

Clays of Jamaica Co-operative 84

The Sekondi-Takoradi Tailors' Co-operative

Society, Ghana 92

The Musika Catering Co-operative, Zimbabwe 102

The Marama Co-operative Society, Fiji 106

Candle Industries Co-operative, Dominica 113

The Mandro Stonecutters' Co-operative, India 121

The Shumgu Women's Group, Zimbabwe 129

The Orissa Filigree Workers' Co-operative
Malcolm Harper
Malcolm Harper taught at Cranfield School of Management until 1995, and since then has worked mainly in India. He has published on enterprise development and microfinance. He was Chairman of Basix Finance from 1996 until 2006, and is Chairman of M-CRIL, the microfinance credit rating agency.