Book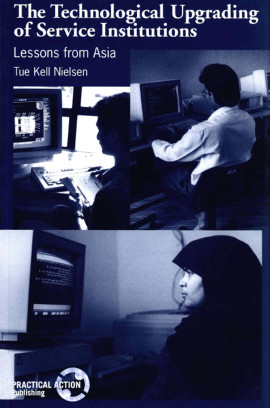 The Technological Upgrading of Service Institutions
Lessons from Asia
Published: 1998
Pages: 256

eBook: 9781780446202
Paperback: 9781853394355
The Technological Upgrading of Service Institutions describes the processes involved when technology is introduced into a developing country from a donor country. It discusses the techniques and problems of setting up a technological service institute in the host country and in particular the importance of ensuring that the service organization becomes independent and self-sufficient as soon as possible. The roles of other parties involved in the transfer are also discussed, NGOs, financial institutions, equipment suppliers, consultants, advisers, as well as the economic and political implications. Detailed case studies from Sri Lanka, Thailand, Bangladesh, India and the Philippines provide fascinating insight into the processes of technology transfer.
INTRODUCTION 1

1 Terms and concepts 5

Technology and infrastructure 5

Technological development 12

Economic structural development factors 15

The technology transfer process 18

Technology transfer models 22

. . . and the reason why 25

2 The participants and their roles 27

Modes of participation 27

The national system 31

The international level 36

The consultant 42

The technology carrier 44

Gaps and linkages in the development process 47

3 Within the project framework - and beyond 52

Goal formulation and development 52

Project organization and execution 57

The significance of the project framework 62

The project in the development process 65

Gauges of results and effects 68

Resource allocation 71

Goal compliance between actors 72

4 Sri Lanka - mobilizing for coastal defence 75

Institutional context 76

LHI: History, concept and operation 77

Technology acquisition and implementation 81

Participants and linkages 84

Problems met and lessons learned 90

5 Thailand - mapping a turbulent development 94

Institutional context 96

Thailand Development Research Institute 98

TDRI as a technology carrier 106

Foundation and operation of TDRI 109

Problems met and lessons learned 113

6 Bangladesh - river management and flood control 116

Institutional context 117

The River Research Institute 119

The Surface Water Modelling Centre 121

Technology acquisition and implementation 124

Participants and linkages 126

Problems met and lessons learned 129

7 India - a new approach to an old challenge 136

Institutional context 137

The Central Water Commission 137

Technology acquisition and implementation 139

Participants and linkages 144

Problems met and lessons learned 150

8 The Philippines - environmental upgrading with social

constraints 154

Institutional context 155

The Pasig River programme 158

Technology acquisition and implementation 164

Participants and linkages 167

Problems met and lessons learned 171

9 Feasibility of technological upgrading projects 175

Participants and linkages 175

Development determinants 179

Resource allocation 189

Goals and goal compliance 190

10 Process design implications 193

The technological development project 193

Institutional performance upgrading 197

Development increment and implementation platform 200

The demand condition 204

The technology and the transfer process 206

11 Policy implications 211

Guided development outside the project framework 211

National development policy 216

Technological infrastructure 219

Orientation of development approach 222

The role of the donor organization 223

The social effect of technological development 228

Appendix: Draft guidelines on technological upgrading projects 230

References and further reading 239
Tue Kell Nielsen
Tue Kelt Nielsen is a specialist in environmental studies of rivers and coastal areas. He has worked with technical consultancies and capability development in the Middle East and Asia.