Book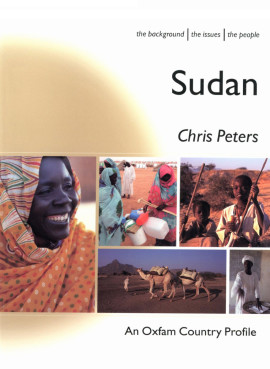 Sudan
A nation in the balance
Published: 1996
Pages: 64

eBook: 9780855988562
Paperback: 9780855983161
This outstanding series provides concise and lively introductions to countries and the major development issues they face. Packed full of factual information, photographs and maps, the guides also focus on ordinary people and the impact that historical, economic and environmental issues have on their lives.
Where rivers meet

A land of diversity

A bird's eye view

Early history

The nation state defined

Four generations of conflict

What is the war about?

The bread-basket of the Arab world?

Of drought and development

Coping with change in the Red Sea hills

An equilibrium destroyed

The health of the nation

I want to learn

Living on the edge of the city

Making ends meet in the city

Making end meet in the countryside

Ayen Mawai goes fishing

Of vets and paravets

Co-ops - Kebkabiya style

A marginalized majority

A nation in the balance

Dates and event

Sudan - facts and figures

Oxfam in Sudan

Further reading

Acknowledgements.
Chris Peters
Chris Peters is Independent International Affairs Professional, Oxford, United Kingdom
Politics, history & problems of humanitarian assistance in Sudan
Middleton, Neil
O'keefe, Phil
Review of African Political Economy, Vol. 33 (2006), Iss. 109 P.543
https://doi.org/10.1080/0305624060101067
[Citations: 6]