Book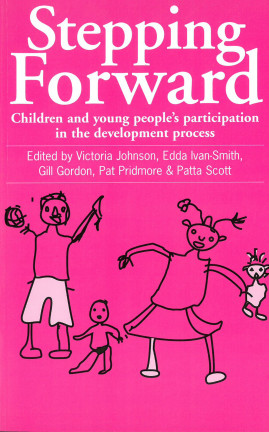 Stepping Forward presents the key issues and challenges involved in facilitating children and young people's participation. The contributors to this book come from a range of backgrounds including NGOs in development, children's agencies, academic institutions and governments, bringing a multi-disciplinary approach to children's participation. The main issues discussed and analysed include: the ethical dilemmas that face professionals in addressing children's participation; the process and methods used in participatory research and planning with children; the inter-relationship between culture and children's participation; considerations for institutions, and the key qualities of a participation programme for children and young people's participation. Essential reading for professionals, agencies and institutions working with and for children, and in development, as well as professionals involved in participatory approaches. This title is part of the Participation in Development series.
Prelims - Stepping Forward (Title Page, Copyright Information, Contents, Abbreviations, Glossary, Dedication Page, Acknowledgements, Forward, Preface)

1. PART 1 - CHILDREN AND YOUNG PEOPLE'S PARTICIPATION: THE STARTING-POINT

Victoria Johnson and Edda Ivan-Smith

2. PART 2 - BUILDING BLOCKS AND ETHICAL DILEMMAS

Victoria Johnson, Emmanuelle Abrioux, Roger Hart, Sarah McNeill, Jonathan Blagbrough, Claire O'Kane, Melinda Swift and Eileen Adams

3. PART 3 - HOW TO: THE PROCESS

Gill Gordon, Charity Manyau, Mahfuza Haque, Thabang Ngcozela, Joachim Theis, Alice Lamptey, Julian Faulkner, Joanna Hill, Rachel Hinton, Rachel Barker, Andy Inglis and Ernesto Cloma

4. PART 4 - CULTURE: ATTITUDES AND PERSPECTIVES

Pat Pridmore, David Stevens, Martin Woohead, Kate Harrison, Christiana Obeng, Barnabas Otaala, Safa Halasah and Rachel Carnegie

5. PART 5 - CHILDREN'S PARTICIPATION IN SITUATIONS OF CRISIS

Pat Pridmore, Priya Coomaraswamy and Vesna Dejanovic

6. PART 6 - INSTITUTIONS AND POWER

Victoria Johnson, Patta Scott, Amy Kaspar, Denise Allen, David Woollcombe, Amanda Olivier, Amanda Saurin, Mary Ellen Lewis, Lucy Harris, Esther Obdam, Abebaw Zelleke, Mark Feeney, Barry Percy-Smith, John Parry-Williams, Berry Mayall, Rachel Marcus and Sheena Crawford

7. PART 7 - CHILDREN AS ACTIVE PARTICIPANTS

Edda Ivan-Smith, Imani Tafari-Ama, Adam Haines, Andrew West, Grace Mukasa, Vera van der Grift-Wanyoto, Rob Bowden and Donald Kaminsky

8. PART 8 - THE WAY FORWARD

Edda Ivan-Smith and Victoria Johnson

Back Matter - Stepping Forward (Appendices 1-5, Bibliography and References, Index)
Victoria Johnson Development FOCUS, Consultant to Institute of Development Studies
Edda Ivan-Smith Save the Children Fund UK
Gill Gordon Gill Gordon has over 30 years' experience of working in the development sector, and is a social development and health promotion specialist with particular expertise in gender, sexuality, reproductive health (and its integration with HIV), community-based participatory approaches and curriculum development .
Pat Pridmore Institute of Education
Patta Scott Institute of Development Studies