Book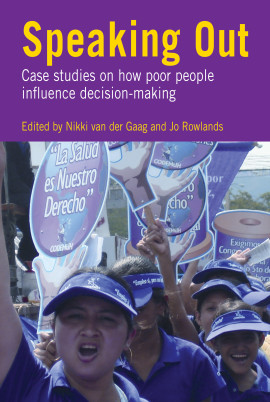 Speaking Out
Case studies on how poor people influence decision making
Jo Rowlands, Nikki van der Gaag
Published: 2009
Pages: 152

eBook: 9781780440682
Paperback: 9781853393822
Many poor people around the world are denied the opportunity to have their say. Politics generally works well for those in power, but those in poverty are often excluded from forums that directly affect their welfare and so are unable to hold decision-makers to account. Speaking Out describes different ways to strengthen the participation of people in poverty so that they become active citizens and shape policy decisions. The book includes different approaches, lessons learned, and useful case study examples on issues ranging from local community budget monitoring to popular mobilization and media work. The chapters show that addressing a lack of ability to speak out against injustice, as well as the more tangible issues, can make a big difference to people's ability to achieve greater well-being and to get out of poverty, and so work towards a point where poor and marginalized women and men are more able to access their rights. This book will be of interest to all concerned with issues of citizen participation and equality worldwide, particularly trainers and practitioners in community development work.
Prelims (Boxes, Figures, Tables, Acknowledgements)

1. The right to be heard: an overview

Jo Rowlands

2. A life with dignity: Honduran women raising voices to improve labour standards

Juan Carlos Arita

3. Building for the future: Fostering local accountability in Malawi

Shenard Mazengera

4. Tackling corruption: lessons from Oxfam's work

Bethan Emmett

5. Finding a voice for the voiceless: Indigenous people gain recognition in Bangladesh

Ayesha Dastgir and Bibhash Chakraborty

6. A new way of working: Community participation in local budgeting in Georgia

Thea Jamaspishvili

7. Indigenous women against impunity: challenging discrimination in Guatemala's legal system

Mayra Muralles and Rebecca Fries

8. Get Heard! People living in poverty in the UK give their views on government policy

Emily Laurie

9. Driving Change: policies favouring poor people in Indonesia

Sharon Thangadurai

10. What's in a name?: changing policies and beliefs in favour of women in Peru

Rocio Vargas Morales

11. Keep Your Promises: campaigning to hold government to account in India

Avinash Kumar

12. The Global Call to Action against Poverty: international voices for change

Caitlin Blaser

Back Matter (Index)
Jo Rowlands Jo Rowlands is Senior Global Programme Adviser on governance and institutional accountability for Oxfam GB.
Nikki van der Gaag Nikki van der Gaag is a freelance writer, journalist, and editor specializing in rights, gender, and development issues.