Book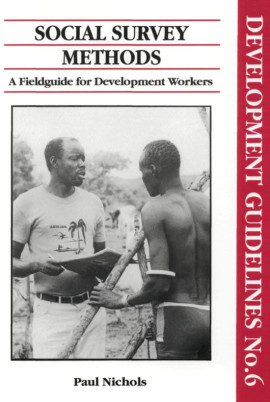 Social Survey Methods
A field guide for development workers
Published: 1991
Pages: 132

eBook: 9780855988531
Paperback: 9780855981266
Written for planners and managers in development and relief agencies, Oxfam Development Guidelines draw on Oxfams experience to review current thinking on theory and practice in a range of development and relief fields. Social Survey Methods is a readable guide to selecting and implementing an appropriate, affordable research method. Designed for those without a formal training in statistics, it includes advice on design of survey forms, interview methods and statistical analysis of results.
Forward by Brian Pratt

Acknowledgements

Introduction

Surveys and other social research methods

Study design

The fieldwork team

Form design

Choosing the sample

Techniques for data analysis

Data analysis

Presenting the findings

Bibliography

Glossary.
Challenges and responses to agricultural practices in Gerado area, South Wello, Ethiopia
Bahir, Asmamaw Legass
International Journal of Environmental Studies, Vol. 67 (2010), Iss. 4 P.583
https://doi.org/10.1080/00207233.2010.503052
[Citations: 6]
Agricultural Intensification, Monocultures, and Economic Failure: The Case of Onion Production in the Tipajara Watershed on the Eastern Slope of the Bolivian Andes
Aragona, Franklyn B.
Orr, Blair
Journal of Sustainable Agriculture, Vol. 35 (2011), Iss. 5 P.467
https://doi.org/10.1080/10440046.2011.579832
[Citations: 6]
A smorgasbord of agricultural technologies: farmers' choices and lessons from Chalite, Panama
Slatton, Russell
Orr, Blair
Development in Practice, Vol. 18 (2008), Iss. 1 P.125
https://doi.org/10.1080/09614520701778991
[Citations: 3]
Usability Evaluation of Computer-Assisted Survey Instruments
Couper, Mick P.
Social Science Computer Review, Vol. 18 (2000), Iss. 4 P.384
https://doi.org/10.1177/089443930001800402
[Citations: 81]
Decentralization, participation, devolution and infrastructure development in rural areas: A case study of district Bhakkar, Pakistan
Hussain, Mumtaz
Ismail, Muhammad
Asian Journal of Comparative Politics, Vol. 6 (2021), Iss. 2 P.143
https://doi.org/10.1177/2057891119900674
[Citations: 1]