Book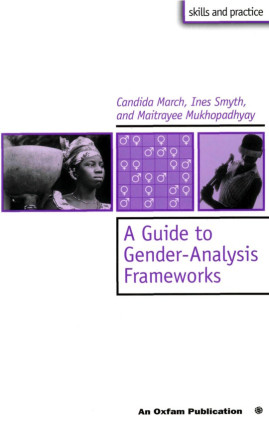 A Guide to Gender-Analysis Frameworks
Published: 1999
Pages: 148

eBook: 9780855987602
Paperback: 9780855984038
This is a single-volume guide to all the main analytical frameworks for gender-sensitive research and planning, based on a pack developed for Oxfam staff and partners. Different frameworks that have been developed are described as well as step-by-step instructions for their use with summaries of the advantages and disadvantages of each one.
Acknowledgements

The context of this book

Introduction

Key concepts

Choosing a framework

The gender-analysis framework and users' commentaries

Explaining the chapters

Harvard Analytical Framework and People-Oriented Planning

Moser Framework

Gender Analysis Matrix (GAM)

Capacities and Vulnerabilities Analysis Framework

Women's Empowerment (Longwe) Framework

Social Relations Approach
Ines Smyth
Ines Smyth is a Senior Gender Advicer for Oxfam GB. She is a member of the Advisory Committee of the Gender and Development network in the UK, and of AWID (the Association for Women's Rights in Development).