Book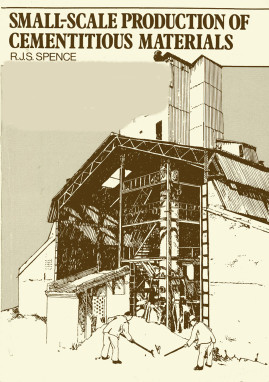 Small-scale Production of Cementitious Materials
Published: 1980
Pages: 56

eBook: 9781780443409
Paperback: 9780903031745
Cement, or at least some form of cementing material, is an essential ingredient of virtually every type of construction. Two alternative approaches to large scale factory production are considered: firstly, the manufacture of Portland cement, or material of comparable quality, in much smaller kilns, and, secondly, the upgrading of village-scale technology, based on lime and pozzolanas. A comprehensive list of references and further information is also listed.
Contents

1. Introduction 1

1.1 The place of cement in development 1

1.2 Existing cement-production technology - characteristics

and problems 2

2. Small scale Portland cement plants 8

2.1 Background 8

2.2 Indian development work on small scale vertical shaft kilns 9

2.3 Medium scale vertical shaft kilns 11

2.4 The compact cement plant 12

2.5 Cement production in the People's Republic of China 12

2.6 Economic considerations: comparison of small and large

plants 13

2.7 Comparison of Indian and Chinese experience 15

3. Lime-based cementing materials 19

3.1 Background 19

3.2 Lime: raw materials 21

3.3 Lime: production process 22

3.4 Lime production: capital costs, labour intensity and

production costs 26

3.5 Pozzolanas: raw materials 27

3.6 Pozzolanas: processing and uses 29

3.7 Economics of pozzolana and lime-pozzolana production 33

3.8 Comparative economics of lime-pozzolana production and

Portland cement production 34

4. Other cementing materials 36

4.1 Hydraulic lime and natural cement 36

4.2 Gypsum 37

4.3 Other cement-making processes 37

5. Non-technical problems in implementing appropriate

technologies 39

6. Summary and conclusions 44

Notes and references 46
Robin Spence
Robin Spence is currently President of the European Association for Earthquake Engineering
Collaboration and Integration in Construction, Engineering, Management and Technology
Practical Application of Natural Pozzolans and Lime for Cost Optimisation in Low-Cost Housing
Naturinda, Dans Nshekanabo
2021
https://doi.org/10.1007/978-3-030-48465-1_46
[Citations: 0]
Essais assez simples des chaux-pouzzolanes
Spence, par R.J.S.
Allen, W.J.
Batiment International, Building Research and Practice, Vol. 9 (1981), Iss. 3 P.181
https://doi.org/10.1080/09613218108550957
[Citations: 0]
Strategies for meeting Tanzania's future cement needs
Stewart, D. F.
Muhegi, B.
Natural Resources Forum, Vol. 13 (1989), Iss. 4 P.294
https://doi.org/10.1111/j.1477-8947.1989.tb00352.x
[Citations: 1]
Natural Resources Exploitation in Sulfate-Resisting Portland Cement Manufacturing: Towards Quality Improvement and Reduction of Environmental Impact
Labidi, Islem
Megriche, Adel
Frontiers in Chemistry, Vol. 10 (2022), Iss.
https://doi.org/10.3389/fchem.2022.806433
[Citations: 0]