Book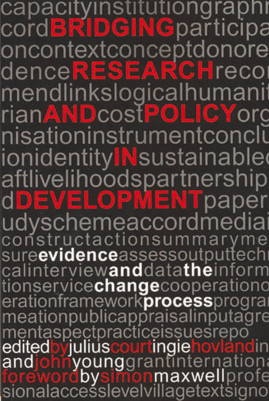 Bridging Research and Policy in Development
Evidence and the change process
Published: 2005
Pages: 228

eBook: 9781780444598
Paperback: 9781853396038
This is a crucial book for international development researchers who want the lessons of their research converted into changes in government and aid agency policy.

International policy making is extremely complex and little studied. This book reviews what we do already know and provides a conceptual framework for future research. Through four case studies, ranging from local to international and from theory to practice, it explores the vital importance of cultures and structures, people, places and timing.

International development work attracts some of the most intelligent entrants to the world of public service, young people who want their commitment to the shaping of a better world to be reflected in the policies of the ministries and agencies they have joined. This book will help to explain to those young people, and to their leaders in the international development community, how to bring about the changes in policy that will promote a true pro-poor development, based on the evidence of what works.
Prelims (Contents, List of boxes, figures and tables, About the authors, Foreword by Simon Maxwell, Preface, List of acronyms)

PART I: BACKGROUND AND THEORETICAL FRAMEWORK

1. Research and policy in international development: introduction

Julius Court, Ingie Hovland, John Young

2. Context, evidence, links: a conceptual framework for understanding research–policy processes

Emma Crewe, Ingie Hovland, John Young

PART II: CASE STUDIES

3. The PRSP initiative: multilateral policy change and the role of research

Karin Christiansen, Ingie Hovland

4. How the Sphere Project came into being: a case study of policy making in the humanitarian-aid sector and the relative influence of research

Margie Buchanan-Smith

5. Animal healthcare in Kenya: the road to community-based animal health service delivery

John Young, Julius Kajume, Jacob Wanyama

6. Sustainable livelihoods: a case study of the evolution of DFID policy

William Solesbury

PART III: SYNTHESIS AND CONCLUSION

7. Crosscutting issues and implications: promoting more informed international development policy

Julius Court, Ingie Hovland, John Young

End Matter (Footnotes, Bibliography, Index)
Julius Court
Julius Court is a Research Fellow at the Overseas Development Institute and on the Council of the Development Studies Association of the UK and Ireland.