Book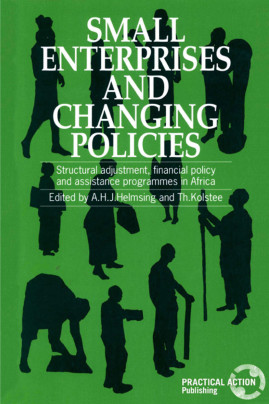 Small Enterprises and Changing Policies
Structural adjustment, financial policy and assistance programmes in Africa
Published: 1993
Pages: 384

eBook: 9781780445908
Hardback: 9781853391866
Paperback: 9781853391859
Discusses the idea and practice of small enterprise development in Africa in a changing policy environment. Covers topics such as the impact of adjustment on small enterprise; financial policy reforms and assistance; and how to sustain government and NGO assistance.
Preface vii

Glossary viii

Part I: Introduction

Small enterprise promotion in a changing policy environment in

Africa: raising issues and attempting answers (A.H.J. Helmsing and

T. Kolstee) 3

Small enterprise and industrialization policies in Africa: some notes

(A.H.J. Helmsing) 24

Analysing the policy framework for small enterprise development

(W.F. Steel) 39

Part II: Structural adjustment and Small Enterprises

Impact of structural adjustment on small-scale enterprises in Ghana

(B. Osei, A. Baah-Nuakoh, K. Tutu and N.K. Sowa) 53

Impact of structural adjustment on the small enterprise sector: a

comparison of the Ghanaian and Tanzanian experiences (J. Dawson) 71

Impact of adjustment policies on the small-scale enterprise sector in

Tanzania (M.S.D. Bagachwa) 91

Industrial sector in Mali: responses to adjustment (J.C. Kessous and

G.Lessard) 114

Structural adjustment and small-scale enterprise development in

Zimbabwe (C. Mumbengegwi) 144

Changing policy regimes for small-scale industries in Latin America.

Lessons for Africa? (F. Uribe-Echevarrfa) 159

Part III: Financial policies and Small Enterprise credit

Sectoral credit allocation policy and credit flow to small enterprises in

Ghana (E. Aryeetey) 187

Financial liberalization under structural adjustment and its

implications for financing small-scale and microenterprises in Nigeria

(T. A. Oyejide) 204

Financing small-scale and microenterprises in Kenya under

conditions of liberalized financial markets (K.M. Mwarania) 214-

Dutch experience with SSE credit: evaluation and policy implications

(R. Teszler) 230

The iqqub and its potential as an indigenous institution financing

small enterprises in Ethiopia (D. Aredo) 245

Small- and microenterprise dynamics and the evolving role of finance

(C. Liedholm) 261

Part TV: Policies for sustaining direct assistance for small

enterprises

Women entrepreneurs, donor promotion and domestic policies

(R.B. Gaidzanwa) 277

Promoting women's enterprises: what Africa can learn from Latin

America (M. Buvinic) 295

Small and microenterprise promotion and technological policy

implications (S. Wangwe) 308

Private-sector organizations and support for small and

microenterprises (J. Levitsky) 318

Notes on contributors 341

Endnotes 343

Bibliography 349
A H J Helmsing
Helmsing has been extensively engaged in projects of inter-university cooperation in Colombia, Chile, Central America, Zimbabwe and Ethiopia; Extensive experience with (evaluation of) decentralisation and local government and governance reform; area based development programmes and policies; and evaluation of development programmes and policies
Islamic Capital Markets
Capital Markets and Government Policy:Introduction and Overview
2015
https://doi.org/10.1002/9781118465158.ch13
[Citations: 0]
Currency Devaluation and Resource Transfer from the South to the North
Ould-Mey, Mohameden
Annals of the Association of American Geographers, Vol. 93 (2003), Iss. 2 P.463
https://doi.org/10.1111/1467-8306.9302012
[Citations: 3]
Risk Sharing, Public Policy and the Contribution of Islamic Finance
Askari, Hossein
Mirakhor, Abbas
(2014)
https://doi.org/10.2139/ssrn.3136955
[Citations: 1]
Issues Facing Small Egyptian Construction Firms: The Financing Barrier
Hassanein, Amr A.G.
Adly, Samih W.
Journal of Small Business & Entrepreneurship, Vol. 21 (2008), Iss. 3 P.363
https://doi.org/10.1080/08276331.2008.10593430
[Citations: 4]
The performance of small mines in Namibia and the region
S Amavilah, Voxi Heinrich
Development Southern Africa, Vol. 13 (1996), Iss. 1 P.31
https://doi.org/10.1080/03768359608439872
[Citations: 1]
An Assessment of the Business Environment for Micro and Small-Scale Enterprises in Tanzania
Satta, Tadeo Andrew
Journal of Small Business & Entrepreneurship, Vol. 17 (2004), Iss. 3 P.205
https://doi.org/10.1080/08276331.2004.10593320
[Citations: 1]
Technology development and the poor/marginalised: context, intervention and participation
Platt, Louise
Wilson, Gordon
Technovation, Vol. 19 (1999), Iss. 6-7 P.393
https://doi.org/10.1016/S0166-4972(99)00030-9
[Citations: 20]
Public Finance and Islamic Capital Markets
Risk Sharing and Public Policy
Rizvi, Syed Aun R.
Bacha, Obiyathulla I.
Mirakhor, Abbas
2016
https://doi.org/10.1057/978-1-137-55342-3_4
[Citations: 0]