Book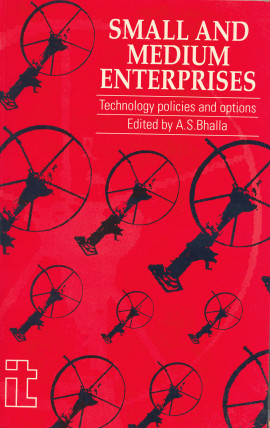 Small and Medium Enterprises
Technology policies and options
Published: 1992
Pages: 296

eBook: 9781780445861
Paperback: 9781853391293
Technological issues and options facing small/medium enterprises in urban and rural settings in developing and advanced countries. Covers policies, programmes, institutions and the infrastructure that affect small businesses.
Foreword ix

Sergio C. Trindade, Executive Director, United

Nations Centre for Science and Technology for

Development (UNCSTD)

Introduction 1

A. S. Bhalla

Part I: Favorable Policies and Programs 13

1. Centralized versus Decentralized Policy Toward

Small and Medium Enterprises 17

John Marcum

2. Technological Policy for Small and Medium

Enterprises: The Canadian Experience 29

Paul Dufour

3. Technology Policy for Small and Medium

Enterprises in The Netherlands 47

Walter Zegveld

4. Technological Transformation of Small and

Medium Enterprises in China 55

Guan Ze-wen et al.

5. Technology Promotion Programs for Small

Enterprises: The Philippine Experience 67

Quintin G. Tan

vi Contents

Part II: Building Technological Capabilities 79

6. Innovations and Small Producers in Developing

Countries 83

A. S. Bhalla

7. Building Indigenous Technological Capability

Through Foreign Assistance to Small/Medium

Enterprises 101

J. M. Hekland

8. A New Approach to Innovation in Traditional

Industries: The Italian Experience 109

Danielle Mazzonis and Mario Pianta

9. Building Technological Capability of Finnish Small

Industry Through Risk-financing 127

Veikko O. Vuorikari

10. Technological Transformation of Small Enterprises

in Zhejiang Province, China 139

Wu Tianzu

11. Technological Characteristics and Change in Small

Industrial Enterprises in Guangdong Province,

China 153

Guan Ze-wen et al.

12. Management and Technological Capabilities of

Malaysian Small and Medium Enterprises:

Constraints and Potential 167

Ahmad Zahdi Bin Jamil and Rahimah Bt. Md. Said

13. Development of Design and Manufacturing

Capabilities in a Small Nigerian Company 175

Sam Chukwujekwu

Part III: Institutions and Infrastructure 183

14. Nurturing Microenterprises and Technological

Innovation through Business Incubation Process 187

Rustam Lalkaka and Hu Ping

15. Institutions for Promoting Technological

Modernization of Indian Small Enterprises 203

C. V: S. Ratnam

16. Technical and Managerial Extension Services for

Korean Small and Medium Enterprises 213

Kyung Tae Lee

Contents vii

17. Cooperation between Research and Educational

Institutions and Small Enterprises in China 221

Cai Liyi

18. Infrastructural Requirements of Information

Technology and Small and Medium Enterprises 233

Karl Ganzhorn

The Seminar Report 247

Select Bibliography 271

Index 275

Notes on the Contributors 283
A S Bhalla A S Bhalla is Chief of the Employment Strategies Branch, International Labour Office, Geneva. Previously he was Chief, Technology and Employment Branch, ILO; Hallsworth Professorial Fellow in Economics at the University of Manchester, United Kingdom; visiting Research Associate at the Economic Growth Center, Yale University; Research Officer at the Institute of Economics and Statistics, Oxford University; and University Tutorial Fellow at the University of Delhi.
Technology development and the poor/marginalised: context, intervention and participation
Platt, Louise
Wilson, Gordon
Technovation, Vol. 19 (1999), Iss. 6-7 P.393
https://doi.org/10.1016/S0166-4972(99)00030-9
[Citations: 20]
Beyond Safety Nets: Linking Social Protection to Technology/Industrial Policies for Informal Women Workers
Doane, Donna L.
Gender, Technology and Development, Vol. 8 (2004), Iss. 3 P.335
https://doi.org/10.1080/09718524.2004.11910127
[Citations: 0]
Influences on strategic management styles among fast growth medium-sized firms in France and Germany
Perks, Keith J.
Strategic Change, Vol. 15 (2006), Iss. 3 P.153
https://doi.org/10.1002/jsc.752
[Citations: 10]
Beyond Safety Nets: Linking Social Protection to Technology/Industrial Policies for Informal Women Workers
Doane, Donna L.
Gender, Technology and Development, Vol. 8 (2004), Iss. 3 P.335
https://doi.org/10.1080/09718524.2004.11910127
[Citations: 0]