Book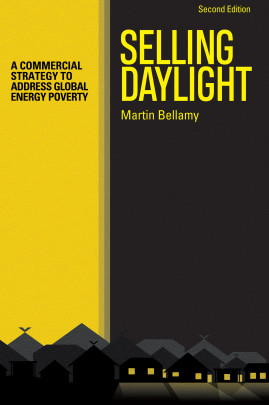 Selling Daylight
A commercial strategy to address global energy poverty
Published: 2019
Pages: 306

eBook: 9781788530705
Paperback: 9781788530682
Hardback: 9781788530675
What motivates companies to invest giant sums of money? What connects two billion people without dependable electricity with driverless vehicles, virtual reality tech, and the 'Internet of Things'?

Absolutely enormous commercial potential. Energy services in the developing world represent a $100 billion commercial market. So where are the proportionate investments?

Though driven by ethical convictions, Selling Daylight is explicitly commercial. It is a dynamic business strategy for how to make money supplying dependable and versatile energy services to energy-poor countries and the wider world.
At the heart of this is the justification that the user should be positioned at the centre of their energy services if we are to make a positive impact on global energy poverty. Stand-alone photovoltaic (PV) systems have been marginalized as an 'alternative' to grid electricity, when in fact their benefits represent a stronger proposition than the grid itself in many parts of the world. The focus must be on quality and value, not just selling hardware at the lowest cost.

There are more applications of stand–alone PV than there are apps for smartphones. We now have a unique opportunity to do for energy services what mobile phones have done for communications. Everything that is described in this ground-breaking book can be implemented now, within existing energy-related expenditure, using widely accessible technology and easily acquired skills.

Martin Bellamy specialises in developing world energy solutions. He provides product assessment, market insight and strategic business services to stand-alone energy organisations and the international investment sector. Martin is chartered as a physicist, engineer and scientist.
Part One How we use energy and why change is paramount

1 Electricity and people

2 Fuel and our lack of awareness

3 The developing world cannot have reliable grid electricity

4 Accepting that the grid format cannot end energy poverty

Part Two Introducing the Selling Daylight proposition

5 Personalising energy

6 An introduction to PV systems

7 Universally accessible visual media

8 The core value and poor reputation of 'off-grid' PV

Part Three Major elements of the Selling Daylight strategy

9 Focusing on quality and value

10 Optimising stand-alone PV hardware design

11 Sharing essential knowledge with everyone

12 The need to reform procurement of stand-alone PV projects

13 Why creating an energy services brand is essential

Part Four People are the cause of poverty; and the solution 143

14 Why poverty persists

15 Finance, technology and people

16 Scale, diversity and people

17 Motivating millions of people and giant companies

Part Five Implementing the Selling Daylight strategy

18 The need for a long-term strategy

19 Why and how to be a diverse company

20 Mapping global markets

21 Where to start

Part Six The commercial value and need for local partners

22 Selling guaranteed energy services

23 Commercial growth from listening to the local market

24 The essential role of local partner networks

25 Global organisations partnering local networks

Part Seven Why this strategy can work

26 A critical look at the Selling Daylight proposition

27 A focus on value justifies the price

28 A civil dawn: life with inclusive autonomous energy services
'This is a wonderful book. Based on his experiences of nearly twenty years working in the renewable energy sector, Martin Bellamy offers a compelling vision of how, what he perceives as, a criminal under-utilization of PV across the developing world could be more forcefully and comprehensively addressed. You might not agree with everything he has to say but this is a must read for anyone interested in our energy futures.'
Ed Brown, Professor of Global Energy Challenges at Loughborough University and Co-Coordinator of the UK Low Carbon Energy for Development Network.

"Martin and this book are a gift to the world's unelectrified. Herein lies many key insights and a guide towards universal access to energy that change lives across the globe. Read it--you won't be disappointed."
Stephen Katsaros, CEO, Nokero Solar