Book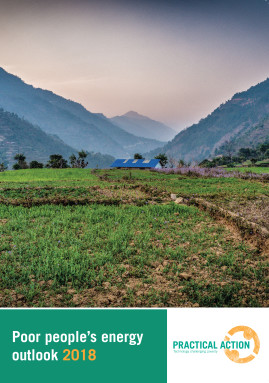 Poor People's Energy Outlook 2018
Achieving inclusive energy access at scale
Series: Poor People's Energy Outlook
Published: 2018
Pages: 80

eBook: 9781780447544
Energy access for all has been enshrined in the 2030 Agenda for Sustainable Development (SDG7) and the Paris Agreement on climate change and there is now widespread acceptance of the great wellbeing and development benefits energy access unlocks. Nevertheless, a lack of understanding about the best methods for delivering electricity and clean cooking at scale remains – and many of the most marginalized people are still left behind.

Key to ramping up progress on our global goals will be identifying the most effective elements of success stories that have arisen, learning lessons from these programmes, and adapting them for different and complex contexts. Building on PPEO 2016 (planning) and PPEO 2017 (financing), Poor people's energy outlook 2018 examines six case study programmes across the clean cooking, decentralized electricity and grid extension sectors, to explore how to reach energy access at scale in an inclusive way. The report demonstrates that a range of energy access interventions is needed to achieve SDG7, and encourages holistic programmes that achieve scale across elements of demand, supply, policy and finance.

The world is not on track to achieve universal energy access by 2030 – but we still have an opportunity to change the direction we are heading. PPEO 2018 illustrates how we as a global community can deliver energy access at scale, while truly leaving no one behind.
Executive Summary

Introduction

Approaches to achieving scale and inclusivity

Methodology

Clean fuels and cooking

Decentralized electricity access

Grid extension

The search for inclusivity at scale

Conclusion and recommendations
'By focusing on the most vulnerable, often considered the last mile, first and by being inclusive, especially of women's leadership, PPEO 2018 supports the SEforAll movement to go further, faster together and to make sustainable energy for all a reality in everyone's lives.'
Rachel Kyte, CEO and Special Representative to the UN Secretary-General for Sustainable Energy for All

'Alongside grid extension and off-grid solutions, PPEO 2018 takes a close look at clean cooking fuels and technologies, highlighting the growing demand for alternative fuels, and the affordability gap that continues to stifle access and leave the very poorest even further behind.'
Peter George, Director, Enterprise Development and Investment, Clean Cooking Alliance

' PPEO 2018 emphasizes how incredibly important gender-sensitive programming is for countries to achieve their objectives around SDG7 and reach those last-mile consumers, but also quite simply to strengthen women's empowerment, achieve greater gender equality and improve human wellbeing.'
Abby Mackey, Grants and Impact Manager, Solar Sister

'The PPEO editions have proven to be an excellent means for bringing the need for increased energy access to the attention of a wider audience.'
Daniel Busche, Managing Director, Energising Development
Practical Action
Practical Action is an innovative international development organisation putting ingenious ideas to work so people in poverty can change their world.
Energy and Environmental Security in Developing Countries
The Politics of Electricity Access and Environmental Security in Mozambique
Cotton, Matthew
Kirshner, Joshua
Salite, Daniela
2021
https://doi.org/10.1007/978-3-030-63654-8_11
[Citations: 0]
Smoke and mirrors—the complexities of cookstove adoption and use in Kenya
Fingleton-Smith, Edwina
Environment, Development and Sustainability, Vol. 24 (2022), Iss. 3 P.3926
https://doi.org/10.1007/s10668-021-01595-7
[Citations: 0]
Blinded by the light: The need to nuance our expectations of how modern energy will increase productivity for the poor in Kenya
Fingleton-Smith, Edwina
Energy Research & Social Science, Vol. 70 (2020), Iss. P.101731
https://doi.org/10.1016/j.erss.2020.101731
[Citations: 2]
The potential for solar-diesel hybrid mini-grids in refugee camps: A case study of Nyabiheke camp, Rwanda
Baranda Alonso, Javier
Sandwell, Philip
Nelson, Jenny
Sustainable Energy Technologies and Assessments, Vol. 44 (2021), Iss. P.101095
https://doi.org/10.1016/j.seta.2021.101095
[Citations: 4]
Achieving Sustainable Development Goals in Nigeria's power sector: assessment of transition pathways
Yetano Roche, María
Verolme, Hans
Agbaegbu, Chibuikem
Binnington, Taylor
Fischedick, Manfred
Oladipo, Emmanuel Olukayode
Climate Policy, Vol. 20 (2020), Iss. 7 P.846
https://doi.org/10.1080/14693062.2019.1661818
[Citations: 9]
Energy poverty alleviation in Southeast Asian countries: policy implications for improving access to electricity
Shyu, Chian-Woei
Journal of Asian Public Policy, Vol. 15 (2022), Iss. 1 P.97
https://doi.org/10.1080/17516234.2020.1770426
[Citations: 3]