Book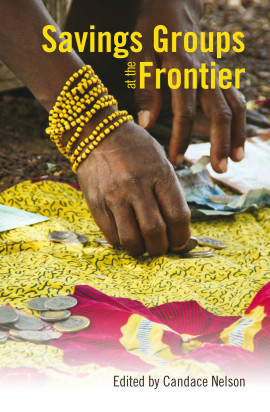 Savings Groups at the Frontier
Published: 2013
Pages: 168

eBook: 9781780447766
Paperback: 9781853397776
Hardback: 9781853397769
Savings Groups reach those rarely served by mainstream financial institutions.Maximum transparency, a profitable structure for saving, access to small loans and an annual lump sum of capital are the hallmarks of the savings group methodology. The outcome: empowered groups, made up mostly of women, who manage themselves as tiny financial institutions. Today there are savings groups in 60 countries with more than 6 million members, the result of initiatives carried out by dozens of international and local NGOs. What are the costs, required inputs, and anticipated outreach of these groups? How does replication take place? How sustainable are the groups? Is it feasible to integrate financial and non-financial services? Are linkages to the formal system desirable? What is the impact of groups on members and their households? How can performance be managed? This book addresses issues, not from the perspective of the financial institution, but in support of group members and savers who are managing their own financial services.This book is essential reading for all those concerned with extending financial services to the poor.
Prelims (Preface, Acknowledgements, Acroynms and Abbreviations)

Introduction

Jeff Ashe and Candace Nelson

1.Savings Groups and Financial Inclusion

Joanna Ledgerwood and Alyssa Jethani

2.Saving Group outreach and membership

Susan Johnson and Silvia Storchi

3.Making it happen: approaches to group formation

Paul Rippey and Hugh Allen

4.Thrift-led Development

Kim Wilson

5.Pathways to Change: impact of group participation

Megan Gash

6.Performance Monitoring

David Panetta

Back Matter (Index)
Candace Nelson Candace Nelson has 30 years of experience in microfinance, research, curriculum development and training in Africa, Latin America and the United States, with the SEEP Network, the McKnight Foundation, and others. In recent years, her focus has been on savings-led microfinance and financial education.
Delving into the Determinants of Default Risk in Savings Groups: Empirical Evidence from Ecuador
López-Sánchez, Pilar
Urquía-Grande, Elena
del Campo, Cristina
Cancer, Andrés L.
(2021)
https://doi.org/10.1057/s41287-021-00480-3
[Citations: 0]