Book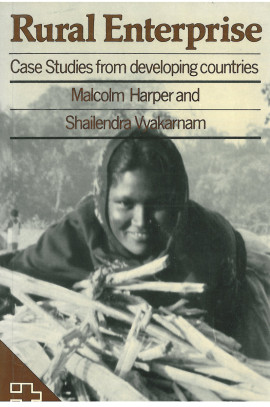 The need for new forms of employment and economic diversification in rural areas has led to a growing interest in rural enterprise. This book is a collection of case studies, representing an overview of the problems and opportunities in this field.
Introduction 1

Section 1 Case Study Presentations: Community Participation 2

in Practice

1 The Key to Sustainable Disaster Mitigation 4

Rajendra Desai and Rupal Desai, Ahmedabad Study Action Group

2 The Listening Legacy: Challenges for Participatory Approaches 28

John Mitchell, British Red Cross

3 Incorporating Local Level Mitigation Strategies into National and 35

International Disaster Response

Nick Hall, Intermediate Technology

Section 2 Reports on morning discussion sessions 47

Participants broke into three working groups to discuss:

4 Defining a participative approach to disaster mitigation 48

5 Evaluating and measuring the impact of mitigation projects 49

6 Arguments for prioritising mitigation 50

Section 3 Agency presentations: improving practice: ideas 51

for future action

7 Emergency preparedness in cyclone prone areas in Madagascar 52

Remko Vonk, Director of CARE International Madagascar,

June 1992-July 1996

8 Ways and means of improving practice 60

Andrew Maskrey, General Coordinator of LA RED (Latin America)

9 The challenge of getting donors involved in disaster mitigation 62

Roger Clarke, Overseas Development Administration (ODA)

Section 4 Recommendations from afternoon discussion sessions 63

Participants divided into three working groups to make recommendations on

initiatives which would reduce the risk of hazards through the promotion of

community based disaster mitigation programmes at the:

10 Local level 64

11 National level 65

12 International level 66

Appendices 1 Resource list 68

2 Profiles of speakers and facilitators 69

3 List of participants 72

4 Programme 74
Malcolm Harper
Malcolm Harper taught at Cranfield School of Management until 1995, and since then has worked mainly in India. He has published on enterprise development and microfinance. He was Chairman of Basix Finance from 1996 until 2006, and is Chairman of M-CRIL, the microfinance credit rating agency.