Book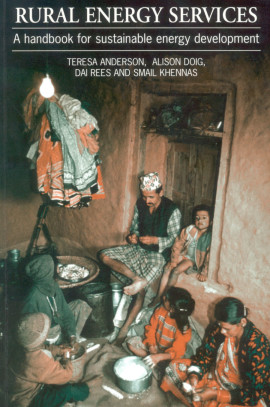 Rural Energy Services addresses the policy, market and sustainability aspects of defining and selecting technologies that will meet the demands for energy services by rural villages in a sustainable and reliable way. It offers a participative approach to the supply of energy services with a clear emphasis on the need for energy services, putting needs rather than technology first, and advocating that rural people, above all, know what they need and what will work for them. The handbook contains a full survey of energy resources and technologies and covers, in detail, the issues surrounding the decision-making processes involved, the implementation of energy schemes and an exploration of the policy, market and sustainability issues which are vital to the success of a scheme. The last section contains real case studies, covering projects which meet the energy service needs of rural people across the world today. The book was written as a resource for a series of workshops commissioned by the British Council and the UK Department for International Development, and provided the basis for workshops in countries such as Uganda, Brazil and India. Governmental and non-governmental energy strategists, donors, international and national development agencies, academics and financial institutions with responsibility for investment strategy will find this practical handbook highly valuable in their work.
Alison Doig
Alison Doig is Energy Policy Advisor for Worldwide Fund for Nature (WWF).
Smail Khennas
Smail Khennas was recently Senior Energy Specialist with Practical Action.
Schools Serving as Centres for Dissemination of Alternative Energy Know-How and Technologies: Evidence from Southern Ethiopia
Dalelo, Aklilu
International Research in Geographical and Environmental Education, Vol. 17 (2008), Iss. 3 P.250
https://doi.org/10.1080/10382040802168347
[Citations: 2]
Clean Energy Investments for Zero Emission Projects
Use of Renewable Energy Resources Within the Scope of Sustainable Energy Management at Airports
Almaz, Fulya
2022
https://doi.org/10.1007/978-3-031-12958-2_15
[Citations: 0]
Renewable Energy for Rural Sustainability in Developing Countries
Alazraque-Cherni, Judith
Bulletin of Science, Technology & Society, Vol. 28 (2008), Iss. 2 P.105
https://doi.org/10.1177/0270467607313956
[Citations: 16]
Engineering for Sustainable Human Development
Defining and Appraising the Community
2014
https://doi.org/10.1061/9780784413531.ch05
[Citations: 0]
Strategic Approaches to Energy Management
Strategic and Management Thinking: An Examining of Sustainable Energy Management
Adiguzel, Zafer
2021
https://doi.org/10.1007/978-3-030-76783-9_14
[Citations: 0]
Engineering for Sustainable Human Development
Engineers and Development
2014
https://doi.org/10.1061/9780784413531.ch03
[Citations: 0]
Experiences of Climate Change Adaptation in Africa
A Grassroots Initiative to Disseminate Solar Energy Technologies in Ethiopia: Implications to Climate Change Education
Dalelo, Aklilu
2011
https://doi.org/10.1007/978-3-642-22315-0_17
[Citations: 1]
Engineering for Sustainable Human Development
Energy Services for Development
2014
https://doi.org/10.1061/9780784413531.ch14
[Citations: 0]