Book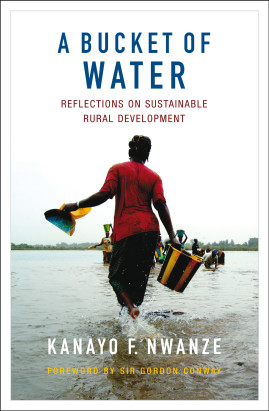 A Bucket of Water
Reflections on sustainable rural development
Published: 2017
Pages: 214

eBook: 9781780449708
Paperback: 9781853399718
Hardback: 9781853399701
The Sustainable Development Goals, which were adopted by 193 countries in 2015, set clear targets for ending hunger and undernutrition, as well as tackling poverty, inequality and the impact of climate change, by the year 2030. The vision they represent is an inclusive one, in which no one is left behind. It is also a collective one, in which the environment must be protected for the benefit of all. The Goals will undoubtedly take billions of dollars to achieve, but they will also take the time, effort and work of a critical group -- rural people. Hundreds of millions of women and men work small farms in the developing world. Three-quarters of the world's poorest and hungriest people live in rural areas. Even as the world becomes more urban, it will continue to depend on rural areas for food, clean water, environmental services and employment.
Drawing on decades of hands-on experience in agricultural research and rural development, Dr Nwanze shows that any genuine effort to achieve sustainable development will fail if it does not include small-scale producers. He also communicates the reasons behind his heartfelt belief in the potential of these farmers. A Bucket of Water reflects on the work of the International Fund for Agricultural Development (IFAD) in tackling challenging issues in rural development, and provides an accessible discussion of themes such as peace and development, the cost of inaction, engaging young people in farming, women's contribution, farming as a business, and technology and research.
This book should be read by anyone studying rural and agricultural development in the context of international development, or concerned about poverty and hunger.

Prelims [Foreword|Preface|Acknowledgements]

1. Dignity for all

2. Sowing conflict or growing peace?

3. Farming as a business

4. Where are the farmers of tomorrow?

5. Moving closer to gender equality

6. Climate change: the time is now

7. Development starts at home

8. Science, technology, and innovation

9. The cost of inaction

10. The future of farming

Back Matter [References]
'This book is an inspirational call to action by one of Africa's leading development champions.'
Professor Calestous Juma, Harvard Kennedy School, Cambridge, United States
'This book has inspired me and given me fresh ideas. It feeds the will and the mind. A "must read", particularly for young men and women entering the field of rural development.'
Julio Berdequé, Principal Researcher at the Latin-American Centre for Rural Development (RIMISP), Santiago, Chile
'This book is about the hard work of providing justice for individuals and communities. It could not be stronger on the cost of inaction – especially in Africa. The author's experience and passion for working with rural communities shines through from these pages.'
Agnes M. Kalibata, President, The Alliance for a Green Revolution in Africa (AGRA)
'The book is a clear testimony of Dr Nwanze's dedication, commitment and passion to bring development to benefit smallholder farmers, women, and food insecure. It will inspire many who are working in agriculture and rural development in their pursuit of ending hunger and malnutrition.'
Shenggen Fan, Director General, International Food Policy Research Institute
'A book of hope for the poorest people on the planet. In an engaging, uplifting, readable and lucid way, Kanayo Nwanze tackles the highly complex issue of rural transformation by taking the reader through dozens of practical examples of lives improved. His stories of international cooperation to strengthen opportunity and dignity for struggling people should overcome cynics everywhere. Why shouldn't we live in world free of hunger? Nwanze shows it can be done.'
Homi Kharas, Senior Fellow and Deputy Director, Global Economy and Development, The Brookings Institution, Washington D.C.
'Poverty and hunger are at the top of the world development agenda, encapsulated in the SDGs. Both are strongly linked to rural areas and farming. Smallholder farmers are key here – they must move from subsistence farming to profitable business, not only for their well-being but for our own food security. Kanayo Nwanze writes with authority and great understanding but also with passion. This is an important plea by Nwanze for all of us to focus on what really matters.'
Mo Ibrahim, Founder and Chairman, Mo Ibrahim Foundation

Kanayo F. Nwanze
Kanayo F. Nwanze is President of the International Fund for Agricultural Development (IFAD), a specialized agency of the United Nations and an international financial institution. Previously, he was Director-General for a decade of what is now the Africa Rice Center, part of the Consultative Group on International Agricultural Research (CGIAR).
Contingent valuation and rural potable water systems: A critical look at the past and future
Witt, Brian
WIREs Water, Vol. 6 (2019), Iss. 2
https://doi.org/10.1002/wat2.1333
[Citations: 4]
Case studies of female-headed farms and households in Liberia: a comparative analysis of Grand Bassa, Lofa, and Nimba counties
Ahn, Jaehyun
Briers, Gary
Kibriya, Shahriar
Price, Edwin
The Journal of Agricultural Education and Extension, Vol. 26 (2020), Iss. 1 P.19
https://doi.org/10.1080/1389224X.2019.1693407
[Citations: 1]