Book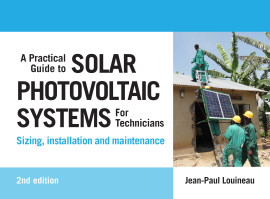 A Practical Guide to Solar Photovoltaic Systems for Technicians
Sizing, Installation and Maintenance
Published: 2020
Pages: 108

eBook: 9781788531153
Paperback: 9781788531139
Solar photovoltaic systems provide an environmentally sustainable source of energy and have the potential to vastly improve the lives of many people in isolated areas of the world.

First published in 2008, the first edition has been used to train more than ten thousand engineers and field technicians to install and maintain such systems. The newest edition of this practical manual is enriched with new field experiences and accurate and up-to-date information on lithium-ion batteries, which enable photovoltaic systems to better store electricity - a further advance for off-grid installations particularly in remote rural areas. Essential information is included on how to calculate the system load, and how to size the PV panels, the batteries and accompanying regulators accordingly.

The book also reflects other advances including increased efficiency of solar panels, and the widening range of low-energy consumer devices that are likely to be used. Full of practical advice that is easy to implement, this quick reference manual is the ideal tool for every promoter and user of solar photovoltaic systems.
Section Title
Page
Action
Price

Cover

Cover

Title Page

iv

Copyright Page

v

Table of Contents

vi

Preface

viii

About the author

x

1. Objective

2

2. Units of Measurement and Basic Formulae for Electricity and Energy

4

3. Introduction to Small Solar Photovoltaic Systems

6

3.1. Definition

6

3.2. Advantages and limitations of solar systems

8

3.3. Safety and environmental issues

9

4. The Client: Meeting his or her Needs

10

4.1. Sizing to sell solar systems

12

4.2. Pricing a solar system ... Making a quotation

16

4.3. How to sell a correctly sized system

16

5. Photovoltaic Modules

18

6. Charge Regulator

20

7. Batteries

22

7.1. Lead-acid battery

22

7.2. Lithium-ion battery

26

8. Loads and Inverters

30

8.1. Lighting

30

8.2. Televisions

32

8.3. Solar refrigerators

32

8.4. Inverters DC/AC

34

8.5. DC/DC adapters

35

9. Choice of Cables and Electrical Protection Equipment

36

10. Quality Control and Procurement Advice

38

11. Installation of Solar Systems

40

11.1. Preparing and organizing your work

40

11.2. PV module installation procedure

42

11.3. Battery installation procedure

44

11.4. Regulator installation procedure + charging the battery

46

11.5. Loads installation and cabling procedure

48

11.6. Finishing touches on the installation

50

12. Maintenance and Servicing of Small Solar Systems

52

12.1. Preparing your work

53

12.2. PV module servicing procedure

54

12.3. Battery maintenance procedure

58

12.4. Regulator servicing procedure

60

12.5. Loads and cabling servicing procedure

62

12.6. Finishing touches for servicing

64

13. Recurrent Problems and Solutions

66

13.1. Solar panel

67

13.2. Regulator

68

13.3. Battery

70

13.4. Breakdowns on loads and cabling

75

14. List of Necessary Tools

76

15. For Further Information

78

16. Glossary

80

17. Annexes

86

Annex 1: Example of a simplified sizing procedure of a photovoltaic installation

88

Annex 2: Example of a simplified sizing procedure of an installation with an inverter

90

Annex 3: Simplified sizing procedure form

92

Annex 4: Example of a quotation for an installation

94

Annex 5: Quotation procedure form

96

Annex 6: User notice for a solar system

98

Back Cover

Back Cover
'This book is focussed on quality deployment of stand-alone solar electric systems and will help promote understanding of just what this under-utilised generic technology can do for addressing energy poverty.'
Martin Bellamy, independent consultant for developing world energy solutions

'More than 30 years of practical experience on stand alone PV system are shared within this great updated version. An essential guide for every photovoltaic professional.'
Etienne Sauvage, HACSE / Gérant

'This very practical guide for technicians provides the essential basics they need to know in order to create high-quality, long-lasting, stand-alone photovoltaic installations.'
Gérard MOINE, President of Solaire sans frontières

'Practical and concise, this book is exactly the informative and specific reference guide that practitioners need when dealing with solar PV technology in the field.'
Alberto Ibanez Llario, Solar Energy & WASH officer, IOM

'A practical guide, free from unnecessary jargon, which provides a systematic, step by step guide on what someone interested in solar energy needs to know for successful planning, installation and maintenance of small photovoltaic systems.'
Brian McSorley, Water & Sanitation Engineering Advisor, Oxfam Global Humanitarian Team
Jean-Paul Louineau
Jean-Paul Louineau is an experienced solar energy consultant and author. He has conceived several hands-on photovoltaic technical and training tools and has conducted numerous training courses in Africa and France. He is the founder of the consultancy company Alliance Soleil, based in France.