Book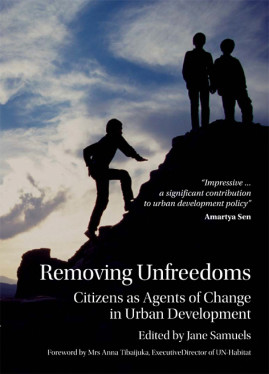 Removing Unfreedoms
Citizens as Agents of Change in Urban Development
Published: 2005
Pages: 280

eBook: 9781780445755
Paperback: 9781853396069
This book takes Amartya Sen's concept of development as freedom and applies it, for the first time, to the challenges of urban development across the globe. Cities are the crucial battleground for the future: they can either become settlements of intense poverty and community conflict or the centres of social, economic and political development. The authors argue that good governance should be not an end, but the means of delivering greater freedom to the inhabitants of a city. Past measures of successful urban development have related to efficiency or the provision of services -- indicators that measure the activities of agencies. A new "Freedom Approach" will engage with local priorities and promote local initiatives, allowing city dwellers themselves to determine how a well-functioning city is to be defined.
FOREWORD, by Ms. Anna K. Tibaijuka, Under-Secretary-General and Executive Director, UN-Habitat. PREFACE. ACKNOWLEDGMENTS. PART ONE – DEVELOPMENT AND URBANIZATION: INTRODUCTION, Nesreen Berwari and Michael Mutter. 1: CITIES, CONFLICT AND VISIONS; 2: NEW PATTERNS OF URBANIZATION; 3: AMARTYA SEN – EXPANDING THE CONCEPT OF DEVELOPMENT. PART TWO – OBSTRUCTIONS TO URBAN DEVELOPMENT: 4: FIVE FREEDOMS; 5: THE NEED FOR NEW EVALUATIONS; 6: POLICY APPROACHES TO UNDERDEVELOPMENT. PART THREE – FORMULATING POLICY FRAMEWORKS

7: THE CHALLENGE; 8: UNIVERSAL AND VARYING VALUES; 9: THE ROLE OF CULTURE; 10: RETHINKING PROJECT DESIGN; 11: AMARTYA SEN AND THE ASIAN ALLIANCE; 12: NATIONAL URBAN RECOVERY PROGRAMME: AFGHANISTAN; 13: LOOKING AHEAD. NOTES ON THE AUTHORS. PARTICIPATING ORGANIZATIONS AND INSTITUTIONS. ACRONYMS AND ABBREVIATIONS. REFERENCES. INDEX
Jane Samuels Jane Samuels is an architectural and design consultant working in the UK. For 20 years she has lectured and facilitated innovative participation processes supporting cultural and environmental issues.
New Frontiers of the Capability Approach
Cities and the Capability Approach
Anand, P. B.
2018
https://doi.org/10.1017/9781108559881.022
[Citations: 2]
Spatial Justice and Informal Settlements
References
2018
https://doi.org/10.1108/978-1-78714-767-620171005
[Citations: 0]
Capability-wise walkability evaluation as an indicator of urban peripherality
Blečić, Ivan
Cecchini, Arnaldo
Congiu, Tanja
Fancello, Giovanna
Talu, Valentina
Trunfio, Giuseppe A
Environment and Planning B: Urban Analytics and City Science, Vol. 48 (2021), Iss. 4 P.895
https://doi.org/10.1177/2399808320908294
[Citations: 3]
Reconceptualising urbanism, ecology and networked infrastructures
Swilling, Mark
Social Dynamics, Vol. 37 (2011), Iss. 1 P.78
https://doi.org/10.1080/02533952.2011.569997
[Citations: 29]
Verkehr und Mobilität zwischen Alltagspraxis und Planungstheorie
Mobilität und soziale Exklusion: Ein Plädoyer für ein zielgruppenspezifisches Mobilitätsmanagement
Daubitz, Stephan
2017
https://doi.org/10.1007/978-3-658-13701-4_4
[Citations: 1]