Book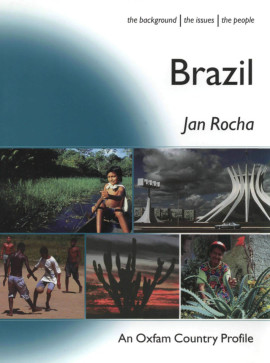 Brazil
Published: 2000
Pages: 88

eBook: 9780855986667
Paperback: 9780855984335
This outstanding series provides concise and lively introductions to countries and the major development issues they face. Packed full of factual information, photographs and maps, the guides also focus on ordinary people and the impact that historical, economic and environmental issues have on their lives.
Introduction

The original Brazilians

Black Brazil

Land for the few

Exploding cities

The coup

Human rights

The political system

The economy

Communications

Education

Children at work

Health

The Northeast

Babassu

The amazing Amazon

Football

Carnival

Conclusion

Facts & Figures

Dates & events

Acknowledgements

Oxfam in Brazil

Index.
Jan Rocha
Jan Rocha is a freelance reporter and wriiter and has worked for the BBC and The Guardian