Book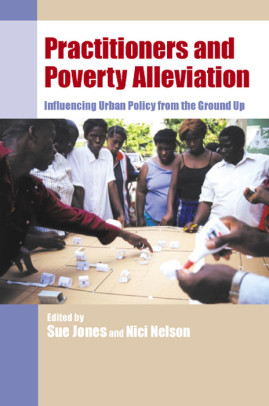 Practitioners and Poverty Alleviation
Influencing urban policy from the ground up
Published: 2005
Pages: 192

eBook: 9781780443782
Paperback: 9781853395703
How can we ensure effective action on urban poverty? How do we bridge the gap between practitioners and those deciding policy? There is a serious communication gap between those at the top who formulate policy and those below who implement it. This book looks at how development institutions are trying to improve the capacity of "micro-level practitioners" to influence policy level decision-making and budgeting on urban development. It includes eight country-based case studies from which the editors draw guidelines then give pointers on how to capitalize on past successful linkages and how to deal successfully with restraints and gaps. Essential readling for practitioners and policy makers in all poverty alleviation work, for donor agencies, NGOs, service providers, community groups, academics and students of development.
This book makes a particular contribution to achieving evidence-based pro-poor policy in the urban sector. It is based on eight country-based studies. It is ideal for policy makers, practitioners, donor agencies, NGOs, service providers, community groups, academics and students of development.
Introduction: Practitioners influencing poverty policy Nici Nelson and Sue Jones

PART I Creating linkages between macro and micro levels

1. Influencing urban development through 'pragmatic advocacy': the case of Homeless International Ruth McLeod, Kim Mullard and Malcolm Jack;

2. The inclusive city: The challenge of urban poverty policy Michael Mutter

3. Participatory budgeting: North–South practitioner links between Greater Manchester and Brazil Ed Cox and Julie Jarman

4. Political capital, poverty and livelihoods in Africa: the politics of influencing policy Sam Hickey

PART II Country case studies

5. Partnership and participation: starting from scratch in project design for urban poverty reduction in Kenya Carole Rakodi

6. Impact assessment in the Faisalabad area, Pakistan: lessons in attitudes to practitioners' knowledge Sue Phillips

7. The Jamaica Urban Poverty Project: an example of transforming practice into policy Gresford Bennett and Leo Thomas

8. Addressing urban poverty policy: CARE, Zambia Raja Jarrah and Liseli Bull Kamanga

9. Influencing urban poverty policy in Ho Chi Minh City, Socialist Republic of Vietnam Hoang Thi Huyen and Joachim Theis

10. Collapsing under the weight of success: an NGO in Jakarta Lea Jellenik

11. Reflecting on issues of policy formation: the experience of a Colombian NGO, the Renacer Foundation Lesly Zambrano Moreno

12. Urban poverty and vulnerability in India: competing agendas Susan Loughhead

Conclusion: Some practical recommendations for including practitioners in policy making Sue Jones

Index
Sue Jones Sue Jones is a development consultant.|Nici Nelson is senior lecturer in the department of anthropology, Goldsmiths College, University of London.
Nici Nelson Nici Nelson, PhD, is Lecturer in Social Anthropology at Goldsmiths College, University of London. She combines interest in action anthropology with her academic interest in gender, urbanization and development in Africa, with a specific focus on East Africa and the Horn. She carries out short term consultancies with various non-government organizations, such as ERA and ACORD.