Book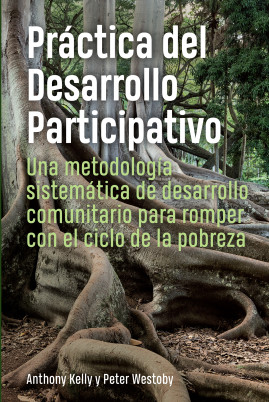 Práctica del Desarrollo Participativo
Una metodología sistemática de desarrollo comunitario para romper con el ciclo de la pobreza
Published: 2019
Pages: 196

eBook: 9781788530781
Paperback: 9781788530767
Hardback: 9781788530750
Desde los grupos de pueblos originarios, profesores que ejercen la docencia y trabajadores(as) de comunidades locales e internacionales surge el deseo de construir comunidades. Práctica del Desarrollo Participativo ofrece una base teórica y aplicada para repensar la práctica del desarrollo, que está profundamente influenciada por una tradición de desarrollo de "comunidad", que tiene sus raíces en la participación y el diálogo, y sin embargo, es más amplia que tan solo eso.

Hoy en día se requiere que los trabajadores(as) del desarrollo del siglo XXI comprendan y ejerzan en todos los siguientes niveles interconectados: método implicado (comenzando con el posicionamiento del yo), micro (desarrollando relaciones constructivas), mezzo (formando pequeños grupos participativos), macro (estructurando el trabajo participativo dentro de organizaciones formales) y meta (trabajando con problemas tanto locales como globales y globales como locales).

Kelly y Westoby recurren a diversas tradiciones de pensamiento y práctica, incluidas las obras escritas de autores-activistas como Gandhi, Freire, Fanon y las tradiciones orales no escritas de mujeres trabajadoras en Asia y de Pueblos Originarios. El resultado es una metodología verdadera y probada, que utiliza marcos de buenas ideas, que surgen a partir de la sabiduría prá ctica, que provienen de la investigación y reflexión de 70 años de experien cia combinada.

Práctica del Desarrollo Participativo ayuda a profesionales experimentados, así como a académicos y estudiantes del desarrollo internacional, desarrollo comunitario y trabajo social, a reflexionar críticamente sobre los conceptos y supuestos que guían su trabajo. También está dirigido a actores corporativos, en los departamentos de relaciones comunitarias de las principales industrias, que interactúan cada vez más con el público.

Anthony Kelly ha enseñado prácticas de desarrollo en la Universidad de Queensland durante veinticinco años. En años más recientes, Anthony ha trabajado con una variedad de compañías mineras transnacionales, ayudándolas a formar relaciones productivas con las comunidades locales.
Peter Westoby ha trabajado como profesional con las bases comunitarias, como facilitador y académico en Australia, Papua Nueva Guinea, Filipinas, Vanuatu, India, Sudáfrica y Uganda. Actualmente es Profesor Asociado de Ciencias Sociales y Desarrollo Comunitario en la Queensland University of Technology, Australia, y profesor visitante en el Centro de Apoyo al Desarrollo, de la University of the Free State, Sudáfrica.
Uniendo viajes: introducción

1. Construyendo un terreno común: marcos para estructurar el trabajo

2. Método implicado: posicionamiento del yo para el trabajo con un marco de Práctica

3. El uno con el otro: el arte del método micro

4. Caminar juntos: el arte del método mezzo

5. Construir una organización para el desarrollo: el arte del método macro

6. De lo local a lo global: el arte del método meta

7. Sueños y reflexiones: juntos sobre una base común
"Kelly y Westoby presentan una visión profunda de cómo puede se r el trabajo del desarrollo genuinamente centrado en el ser humano."
Profesor Jim Ife, Escuela de Ciencias sociales y psicología Western Sydney University
Anthony Kelly
Anthony Kelly has been involved in development work for more than forty years. He taught development practice at The University of Queensland for twenty-five years. In more recent years Anthony has worked with a range of transnational mining companies helping them form productive relationships with local communities.
Peter Westoby
Peter Westoby has been involved in development practice for over thirty years, working as a grassroots practitioner, facilitator and scholar in diverse contexts such as Australia, PNG, the Philippines, Vanuatu, India, South Africa and Uganda. He is currently Associate Professor of Social Science and Community Development at Queensland University of Technology, Australia, and a Visiting Professor at the Centre for Development Support, University of the Free State, South Africa.