Book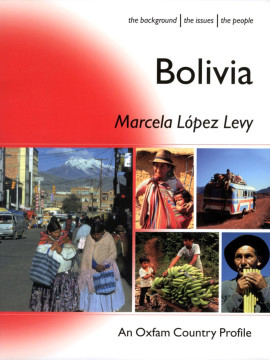 Bolivia
Published: 2001
Pages: 96

eBook: 9780855986650
Paperback: 9780855984557
This outstanding series provides concise and lively introductions to countries and the major development issues they face. Packed full of factual information, photographs and maps, the guides also focus on ordinary people and the impact that historical, economic and environmental issues have on their lives.
The top of the world
The desired nation
The curse of wealth
On the road to revolution
People and power
Who owns the land?
Human capita
An economy in crisis
Life or debt
The state of politics
Leaf of contention
A nation on the move
Exploiting the environment
The spice of life
Conclusion
Dates & events
Facts & figures
Sources & further reading
Oxfam in Bolivia
Index
Acknowledgements

Marcela Lopez Levy
Marcela Lopez Levy works as a researcher and editor at the Latin America Bureau in London.