Book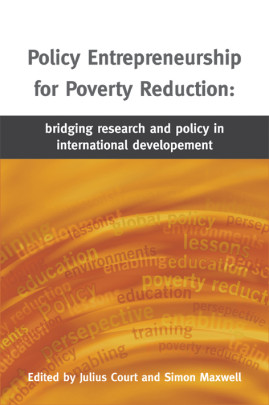 Policy Entrepreneurship for Poverty Reduction
Bridging Research and Policy in International Development
Published: 2006
Pages: 160

eBook: 9781780445632
Paperback: 9781853396427
International development is characterized by a concern for praxis, the union of theory and practice. But bridging research and policy is harder than it looks. This book focuses on two key questions: What factors affect the influence research has on policy and practice in international development? How can we bridge research and policy more effectively for poverty reduction? Together these papers add new perspectives and a host of lessons on the science and the art of bridging research and policy. In particular, they highlight four key lessons: the need for research donors to foster research capacity and to protect it from political interference; the need for researchers to use detailed analysis within and across national boundaries in order to inform high-level policy debates; the importance of presenting research results in such a way that they cannot be over-simplified; and the value of creating alliances between researchers and civil society groups.This is a vital book for researchers and analysts in international development and is also important for policymakers and practitioners.
Introduction

Policy Entrepreneurship For Poverty Reduction: Bridging Research and Policy in International Development

Research, Policy and Practice: Why Developing Countries are Different

Bridging Research and Policy: Lessons From Policy Entrepreneurs

Bridging Research and Policy in India

Bridging Research and Policy: A UK Perspective

Bridging Research and Policy in Development: Perspectives from International Organizations

What Determines the Influence That Research Has on Policy-Making?

Bridging Research and Policy

Research-Policy Case Studies

Will a Marshall Plan for Africa Make Poverty History?

Poverty and Economic Policy: What Happens When Researchers Disagree?

Bridging Research and Policy on Education, Training and Their Enabling Environments

Development Assistance and Development Finance: Evidence and Global

Policy Agendas
Julius Court Julius Court is a Research Fellow at the Overseas Development Institute and on the Council of the Development Studies Association of the UK and Ireland.
Simon Maxwell Simon Maxwell was Director of the Overseas Development Institute (ODI) in London between 1997-2009. He previously worked overseas for ten years, in Kenya, India and Bolivia; and from 1981-1997 was a Fellow at the Institute of Development Studies, University of Sussex, latterly as Programme Manager for Poverty, Food Security and the Environment.
Rapid knowledge: 'Bridging research and policy' at the Overseas Development Institute
Stone, Diane
Public Administration and Development, Vol. 29 (2009), Iss. 4 P.303
https://doi.org/10.1002/pad.540
[Citations: 12]
Cumulative influence: the case of political settlements research in British policy
Barakat, Sultan
Waldman, Thomas
Policy Studies, Vol. 38 (2017), Iss. 6 P.640
https://doi.org/10.1080/01442872.2017.1391193
[Citations: 0]