Book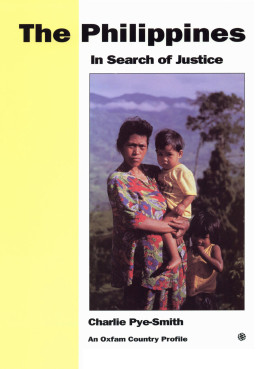 The Philippines
In Search of Justice
Published: 1997
Pages: 64

Paperback: 9780855983673
This outstanding series provides concise and lively introductions to countries and the major development issues they face. Packed full of factual information, photographs and maps, the guides also focus on ordinary people and the impact that historical, economic and environmental issues have on their lives.
Introduction

The feudal past

Philippines 2000

The last frontier

Between the devil and the deep blue sea

Trouble on the lake

Pushed to the limits

God, nature and other practical matters

Claiming the land

The mining dilemma

Living dangerously

Strategies for survival

A tale of two cities

In search of justice

Facts and figures

Oxfam in the Philippines

Further reading.
Charlie Pye-Smith
Charlie Pye-Smith spends much of his time working as an in-house writer for the World Agroforestry Centre and the Centre for International Forestry Research (CIFOR). During recent years, he has also had several assignments with the UK Department for International Development (DFID), and has been a regular contributor to the New Scientist, the Daily Telegraph, the Financial Times, the Independent, and other publications.