Book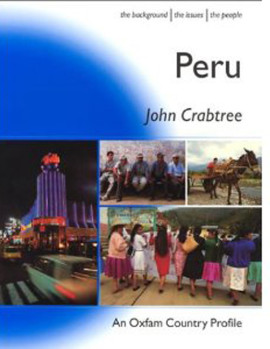 Peru
Published: 2002
Pages: 96

eBook: 9780855988210
Paperback: 9780855984823
This outstanding series provides concise and lively introductions to countries and the major development issues they face. Packed full of factual information, photographs, and maps, the guides also focus on ordinary people and the impact that historical, economic and environmental issues have on their lives.
Introduction

Peru and the Peruvians

The fight for democracy

Peru's beleaguered economy

Affirming rights

The natural enviroment

Conclusions

Facts and figures

Dates and events

Sources and further reading

Oxfam in Peru

Acknowledgements

Index.
John Crabtree
John Crabtree is a research associate of the Latin American Centre. His main area of expertise is on the contemporary politics of the Andean region.
Organic coffee certification in Peru as an alternative development-oriented drug control policy
Garcia-Yi, Jaqueline
International Journal of Development Issues, Vol. 13 (2014), Iss. 1 P.72
https://doi.org/10.1108/IJDI-11-2013-0077
[Citations: 3]