Book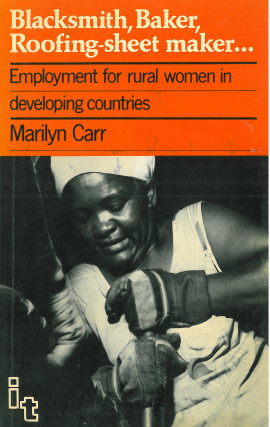 Blacksmith, Baker, Roofing-sheet Maker
Employment for rural women in developing countries
Published: 1984
Pages: 158

eBook: 9781780441757
Paperback: 9780946688159
Using over 50 case studies from 22 countries which show how unconventional projects have developed women's earning power, this book is a source of ideas for all those helping to develop cash-producing work for women in developing countries.
Illustrations
Foreword by Dorienne Wilson-Smillie
CHAPTER I: NEW JOBS FOR OLD
1. Why Do Rural Women Need Cash?
2. What is Wrong with Handicrafts?
3. What are the Alternatives?
CHAPTER II: OPTIONS FOR EARNING
1. Food, Drink and Tobacco
Fish Smoking in Ghana
Gari Processing in Ghana
Oil Processing in Sierra Leone
Oil Processing in Upper Volta
Coconut Sweets in Guyana
Com and Cheese Biscuits in Honduras
Spices and Pickles in Bangladesh
Pappad Rolling in India
Puffed Rice in Bangladesh
A Bakery in Kenya
A Bakery in Botswana
Solar-dried Coconut in Bangladesh
Mango Puree in Honduras
Fruit and Vegetable Preserving in Honduras
Ready-to-Eat Infant Food Mix in India
Palmwine in Nigeria
Banana Chips in Papua New Guinea
Summary
Cloth, Clothing and Fibres
Wool Spinning in India
Spinning Muslin Yam in India
Tie and Dye Co-operative in Tanzania
Dyeing in Mali and the Gambia
Carpet Weaving in Iran
Spinning in Upper Volta
Broadloom Weaving in Ghana
Spinning Silk in Bangladesh
Tailoring and Sewing Co-operatives in Tanzania
Textiles in Swaziland
School Uniforms in Botswana
Fishing-net Manufacture in India
Rope Making in Sri Lanka
Summary
3. Building Materials, Housing and Household Goods
Sisal-Cement Roofing Sheets in Kenya
Stove Factories in Indonesia
Stove Builders in the Sahel
Soap-making Co-operative in Tanzania
Soap Making in Mali
Caustic Potash Making in Ghana
Summary
4. Other Consumer Goods
Day-care Centre Equipment in Jamaica
Hospital Equipment in Bangladesh
Traditional Medicines in South India
Summary
5. Other Productive Activities
Winter Vegetables in Bangladesh
Vegetable Co-operatives in Botswana
Bananas in Samoa
Tree Planting in Kenya
Poultry Keeping in Kenya
Poultry Raising in Bangladesh
Goats and Kids in South India
Goat Rearing in Bangladesh
Beekeeping in Kenya
Fish Fanning in Kenya
Summary
6. Services
Barefoot Vets in Bangladesh
Barefoot Mechanics in Nepal and Bangladesh
Barefoot Agriculturalists in The Gambia
Millers in Bangladesh
Custom Work in Bangladesh
Bus Service in Kenya
Summary
CHAPTER III: PROGRESS THROUGH LEARNING
1. General Overview
2. Factors in Success ... and Problems
References for Case Studies
Sources for Further Information

Marilyn Carr
Marilyn Carr is Chief of the Economic Empowerment Section of the United Nations Development Fund for Women. She is a development economist with over 20 years experience in Asia and Africa and specializes in the fields of small enterprise development and technology choice and diffusion.