Book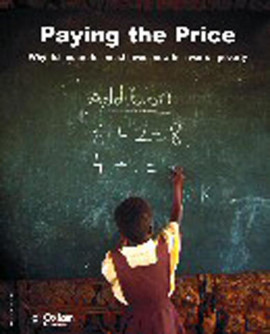 Paying the Price
Published: 2005
Pages: 90

eBook: 9780855988180
Paperback: 9780855985486
Progress towards meeting the Millennium Development Goals has fallen far short of the promises made in 2000. At the current rate, all but one of them will certainly be missed. The cost of failure will be high: 45 million more children will die between now and 2015 than would be the case if the world met the goal to reduce child mortality. The time for action is running out. 2005 offers an historic opportunity for rich countries to make good on theirpromises to finance the Goals effectively - and those promises are easily affordable.In 2005 the Global Call for Action Against Poverty will tell world leaders that this injustice is not inevitable: they can make poverty history - if they act now.
Acronyms and abbreviations

Summary

The price is small

Aid works...

....and it could work even better

Ensuring that Southern governments delivery development

Introduction

The argument for aid

Delivering justice, not charity

Aid works

Aid is a critical source of finance for the poorest countries

Aid pessimism needs reassessment

Small change: the costs of aid

The human cost of under-funding

Small change: the current cost of aid

A history of broken promises

Affordable for the affluent

Value for money: how donors can make aid work better

Strategise - but for poverty reduction

Cut the red tape

Support nationally defined poverty programmes

Delivering development: how Southern governments can make aid work better

Combat corruption and build effective institutions

Deliver policies and budgets for poor people, with poor people

Recommendations

Notes
Arabella Fraser
Arabella Fraser is a Research Assistant in agricultural dumping and international aid flows for Oxfam
Bethan Emmett Bethan Emmett is a Policy Adviser in financing for development and gender equality, specifically macroeconomic policy and public expenditure.