Book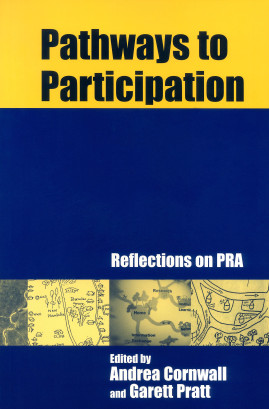 Pathways to Participation
Reflections on PRA
Published: 2003
Pages: 240

eBook: 9781780441276
Paperback: 9781853395697
'Participation' may have become a buzzword of development practice but the pathways of current enthusiasm for participatory methods stretch back over decades. The most popularly recognized and widely used participatory approach, Participatory Rural Appraisal (PRA), had its genesis in the late 1980s. Since then, it has come to be used in countless communities, in dozens of countries and in a huge variety of contexts. Once a marginal practice battling for recognition, it has now become an instrument used by the most powerful of global development institutions. As PRA has spread and been taken up by actors and institutions across the spectrum of development practice, it has taken on a diversity of forms and meanings. This book brings together some of the greatest names in development practice including Robert Chambers, and Jules Pretty. It comprises the reflections of thirty-two practitioners from twenty different countries, from different generations of PRA practitioners and from different arenas of development work, cultural and political contexts and professional backgrounds. Their pathways to participation have taken different directions, influenced not only by their own professional and personal backgrounds, but also the forms of PRA which they were introduced to and helped to evolve. Embracing a range of entry points and experiences, these stories speak of moments of frustration and revelation, of dilemmas and discoveries; together, their accounts articulate the sheer variety of the forms of practice that have come to be called 'PRA'. Contributors: Andrea Cornwall; Garett Pratt; John Kennedy Alumasa; Eloy Anello; Qais Anwar; Karen Brock; Robert Chambers; Rene 'Pong' Clemente; Chandan Datta; Michael Drinkwater; Marc Fiedrich; Bara Gueye; Irene Guijt; Regis Gwaba; Katja Jassey; Barbara Kaim; Humera Malik; Mwajumah Saiddy Masaiganah; Jessica Nalwoga; Koos Neefjes; Bardolf Paul; Ditdit R Pelegrina; Kamal Phuyal; Michel Pimbert; Rajendra Prasad; Jules Pretty; Mallika Samaranayake; Tilly Sellers; Meera Shah; Marja Liisa Swantz; John Thompson and Andreas Wilkes
Prelims (Contents, Preface, Acknowledgements, List of Acronyms and Abbreviations, Contributors' Biographical Notes)

1. Introduction

Andrea Cornwall, Garett Pratt

2. Hanging on the edge of a cliff: my loud thoughts as I walk along the winding path of participatory development in Kenya

John Kennedy Alumasa

3. My pathway to work on participation in local governance

Eloy Anello

4. Six experiences with PRA

Qais Anwar

5. Participation, policy, poverty: where now?

Karen Brock

6. Reflections on PRA experience

Robert Chambers

7. From participatory appraisal to participation in governance in the Philippines

Rene D. Clemente

8. Winding paths, broken journeys: travels with PRA

Andrea Cornwall

9. Participation of the people

Chandan Datta

10. Reflections on participation and empowerment

Michael Drinkwater

11. Maps turning to minefields: local knowledge of PRA in a Ugandan village

Marc Fiedrich

12. Pathways to participation in French-speaking Africa: a learner's itinerary

Bara Gueye

13. Intrigued and frustrated, enthusiastic and critical: reflections on PRA

Irene Guijt

14. Reflecting on PRA, participation and gender

Regis M. Gwaba

15. PRA from an end-user's perspective

Katja Jassey

16. Personal reflections – on petrol queue time

Barbara Kaim

17. Sharing my dilemmas: mixed messages on PRA and participation

Humera Malik

18. Reflecting on the past: my journey to participation

Mwajuma Saiddy Masaiganah

19. To REFLECT or not to REFLECT?

Jessica Nalwoga

20. PRA, poverty and livelihoods: reflections from inside the bowels of an international NGO

Koos Neefjes

21. PRA values: how to become a true believer

Bardolf Paul

22. Rediscovering a dream: reflections on PRA experience

Wilhelmina R. Pelegrina

23. Sharing happiness through PRA

Kamal Phuyal

24. Learning to live the politics of participation

Michel Pimbert

25. PRA as learning and empowerment – for children too

Rajendra Prasad

26. Discovering new faces of PRA

Garett Pratt

27. What have we learned about participatory methods?

Jules Pretty

28. Tracing my participatory footsteps

Mallika R. Samaranayake

29. Making waves: a case for handing over PRA

Tilly Sellers

30. The road from Lathodara: some reflections on PRA

Meera Kaul Shah

31. My road to Participatory Action Research

Marja-Liisa Swantz

32. Learning from mistakes: reflections on improvisational participation

John Thompson

33. Rewriting the mass line: an outsider's reflections on participatory approaches in southwest China

Andreas Wilkes
Andrea Cornwall
Andrea Cornwall is Professor of Anthropology and Development in the School of Global Studies at the University of Sussex.
Gender, innovation and ambiguity: speech prohibitions as a resource for 'space to move'
Beck, Rose Marie
Discourse & Society, Vol. 20 (2009), Iss. 5 P.531
https://doi.org/10.1177/0957926509106409
[Citations: 5]
Environmental Risk, Uncertainty, and Participation: Mapping an Emergent Epistemic Community
Chilvers, Jason
Environment and Planning A: Economy and Space, Vol. 40 (2008), Iss. 12 P.2990
https://doi.org/10.1068/a39279
[Citations: 70]
'Follow the Innovation' - a Joint Experimentation & Learning Approach to Transdisciplinary Innovation Research
Hornidge, Anna-Katharina
Ul Hassan, Mehmood
Mollinga, Peter P.
(2009)
https://doi.org/10.2139/ssrn.1860991
[Citations: 5]
Can We Know Better?
CHAPTER 5: Power, participation, and knowledge: knowing better together
Chambers, Robert
2017
https://doi.org/10.3362/9781780449449.005
[Citations: 0]
Learning from Doing Participatory Rural Research: Lessons from the Peak District National Park
Dougill, A. J.
Fraser, E. D. G.
Holden, J.
Hubacek, K.
Prell, C.
Reed, M. S.
Stagl, S.
Stringer, L. C.
Journal of Agricultural Economics, Vol. 57 (2006), Iss. 2 P.259
https://doi.org/10.1111/j.1477-9552.2006.00051.x
[Citations: 114]
Is self-governance of the commons feasible in the PRC? A case study of pasture governance in Zhua Xixiulong township, Gansu province
Wang, Hongxin
Shao, Junlin
Cai, Menghan
Asia Pacific Journal of Public Administration, Vol. 36 (2014), Iss. 3 P.211
https://doi.org/10.1080/23276665.2014.942064
[Citations: 0]
Participatory research in practice: Understandings of power and embodied methodologies
Hore, Katherine
Gaillard, JC
Davies, Tim
Kearns, Robin
New Zealand Geographer, Vol. 77 (2021), Iss. 3 P.221
https://doi.org/10.1111/nzg.12308
[Citations: 0]
Deliberating Competence
Chilvers, Jason
Science, Technology, & Human Values, Vol. 33 (2008), Iss. 3 P.421
https://doi.org/10.1177/01622439073075941
[Citations: 36]
Vignettes of Communities in Action: an exploration of participatory methodologies in promoting community development in Nigeria
Abah, Oga Steve
Community Development Journal, Vol. 42 (2007), Iss. 4 P.435
https://doi.org/10.1093/cdj/bsm035
[Citations: 5]
Deliberating Competence
Chilvers, Jason
Science, Technology, & Human Values, Vol. 33 (2008), Iss. 2 P.155
https://doi.org/10.1177/0162243907307594
[Citations: 109]
Using Drama for School-Based Adolescent Sexuality Education in Zaria, Nigeria
Kafewo, Samuel Ayedime
Reproductive Health Matters, Vol. 16 (2008), Iss. 31 P.202
https://doi.org/10.1016/S0968-8080(08)31356-1
[Citations: 9]