Book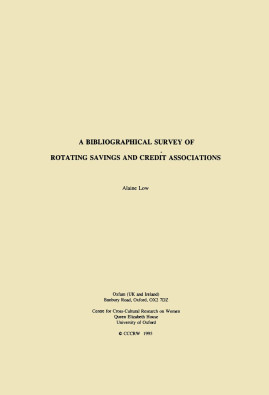 A Bibliographical Survey of Rotating Savings and Credit Associations
Published: 1995
Pages: 75

eBook: 9780855986643
Paperback: 9780855982980
In many countries in Africa and Asia, rotating savings and credit associations underpin much of the economy. This survey covers the wide range of literature on these associations. Published with Centre for Cross-Cultural Research on Women.
A Bibliographical Survey of Rotating Savings and Credit

Definition of ROSCAs

Lessons to be learned

ROSCAs: A Bibliography

Index
Alaine Low
At the time of writing, Alaine Low was an associate lecturer at the Open University and the associate editor of the five-volume Oxford History of the British Empire
Banquet Banking: Gender and Rotating Savings and Credit Associations in South China
Tsai, Kellee S.
The China Quarterly, Vol. 161 (2000), Iss. P.142
https://doi.org/10.1017/S0305741000003970
[Citations: 18]
Determining the potential of informal savings groups as a model for formal commitment saving devices
Landman, Marna
Mthombeni, Morris
South African Journal of Economic and Management Sciences, Vol. 24 (2021), Iss. 1
https://doi.org/10.4102/sajems.v24i1.3940
[Citations: 0]
The interplay between official and unofficial laws in rotating savings and credit associations (Eqqub) in Tigray, Ethiopia
Yimer, Gebreyesus Abegaz
Decock, Wim
Ghebregergs, Mehreteab Ghebremeskel
Abera, Gebrehiwot Hadush
Halibo, Gidey Seyoum
The Journal of Legal Pluralism and Unofficial Law, Vol. 50 (2018), Iss. 1 P.94
https://doi.org/10.1080/07329113.2017.1407525
[Citations: 3]