Book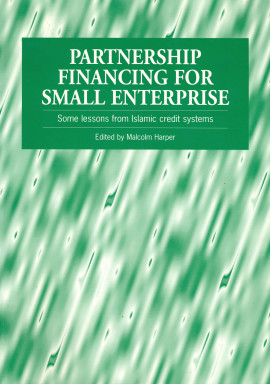 Partnership Financing for Small Enterprise
Some lessons from Islamic credit systems
Published: 1997
Pages: 72

eBook: 9781780440897
Paperback: 9781853393938
This book describes the experiences of a wide range of enterprises, banks and other agencies with partnership finance. Musharaka, or partnership financing, is a method used by Islamic financial institutions which reject the concept of fixed interest. It is, effectively, a much-simplified form of venture capital. It is generally recognized that small businesses and microenterprises can make effective use of institutional finance, and there is a wide range of methodologies through which such finance can be delivered to the owners of these enterprises, and recovered, in a way that is profitable for the businesses and self-sustaining for the financing institutions.
Introduction

MALCOLM HARPER

Financing challenges for small enterprises - The experience of

Sudanese Islamic Banks

B ADR-EL-DIN A. IBRAHIM

Examples of partnership financing for microenterprise - The case of

Sudanese Islamic Bank 13

. M.E.T. EL-BHASRI and NAWAL ABDALLA ADAM

Musharaka financing for small enterprise ,under the Jordan Islamic Bank's

lending programme 19

MOHAMMAD HAMDAN

The experience of Dawaimeh self-help group in musharaka financing 22

KHOLOUD KHALDI

The experience of traditional savings groups and El Kifaya Bank in financing

poor women

SAFAA ELAGIB ADAM

ACORD musharaka credit programmes in Sudan

ASIM NOURAIN

Musharaka financing for small enterprises in Pakistan

MUHAMMAD RAMZAN AKHTAR

Interest-free credit for Jordan Valley farmers and cattle herders

MOHAMMAD AHMAD EL-KARAKI

A proposal for musharaka finance for fishing people in Malaysia

SAAD AL-HARRAN

Group-guaranteed lending and savings for Afghan women

BABAR AZIZ, JACQUELINE BASS, BARY HELSETH,

BEHRUZ MASHREQUI, MADELINE HIRSCHLAND,

ELLEN PRUYNE and REBECCA SALT1

Partnership financing for small enterprise - Problems and

suggested improvements

MUSTAFA GAMAL-ELDIN ABDALLA

Conclusions and recommendations

MALCOLM HARPER
Malcolm Harper
Malcolm Harper taught at Cranfield School of Management until 1995, and since then has worked mainly in India. He has published on enterprise development and microfinance. He was Chairman of Basix Finance from 1996 until 2006, and is Chairman of M-CRIL, the microfinance credit rating agency.
Handbook of Research on Theory and Practice of Global Islamic Finance
Interest-Free Micro-Finance Without Any Religious Connotation
Ibrahim, Badr El Din A.
2020
https://doi.org/10.4018/978-1-7998-0218-1.ch011
[Citations: 1]
The entrepreneurial role of profit‐and‐loss sharing modes of finance: theory and practice
Kayed, Rasem N.
International Journal of Islamic and Middle Eastern Finance and Management, Vol. 5 (2012), Iss. 3 P.203
https://doi.org/10.1108/17538391211255205
[Citations: 24]