Book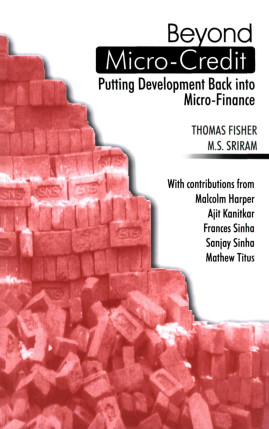 Beyond Micro-Credit
Putting development back into micro-finance
Published: 2002
Pages: 392

Paperback: 9780855984885
Micro-finance is one of the fastest growing development strategies, in many ways it is already outgrowing development with several micro-finance institutions becoming banks. But it is becoming clear that the provision of credit for enterprise development is not on its own leading to development. Beyond Micro-Credit sets out how Indian Micro-Finance Initiatives are combining micro-finance with a wide range of development goals, these include not only poverty alleviation through providing savings, credit and insurance services but also promoting livelihoods, empowering women, building people's organizations and changing institutions. It illustrates each of these from actual microfinance practice and explores the organizational challenges of combining such development goals with financial service provision. It includes detailed analysis of "self-help groups"; comparisons with microfinance practice in Bangladesh and contemporary methods of assessing performance and impact.
Introduction;

Introduction to the financial sector in India;

Part 1: Micro-finance and development;

Micro-finance and social and economic security;

Micro-finance and livelihoods - the challenge of BASIX;

Micro-finance and people's organisations;

Micro-finance and system-wide change;

Part 2: Micro-finance: organisations and institutions;

Self-help groups and Grameen Bank groups: What are the differences?

by Malcolm Harper;

Costs in micro-finance: What do urban self-help groups tell us? by Mathew Titus;

Exploring empowerment and leadership at the grassroots: Social entrepreneurship in the SHG movement in India; by Ajit Kanitkar;

Sustainability and development: Evaluating the performance of Indian micro-finance; by Sanjay Sinha and Frances Sinha;

Rising to the challenge of scale in India: Growing the micro-finance sector; by Mathew Titus;

Emerging lessons and challenges; by Thomas Fisher;

Appendix:Capacity-building and organisational learning project for development finance in India

Glossary

Bibliography

Index

About the authors and contributors.

Bibliography; Index
Thomas Fisher
Thomas Fisher works at the New Economics Foundation in London on issues of development finance, organizational development and accountability in both southern and northern countries Previously he was engaged in development training and research in India for five years.
M S Sriram
M S Sriram is a faculty member at the Centre for Management in Agriculture at the Indian Institute of Management, Ahmedabad