Book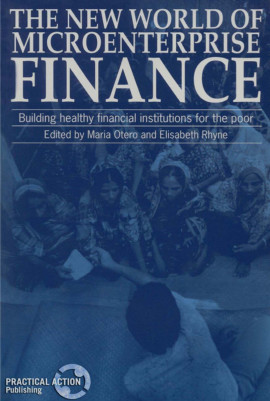 New World of Microenterprise Finance
Building healthy financial institutions for the poor
Published: 1994
Pages: 320

Paperback: 9781853392474
This book argues that it is possible to create sustainable and viable financial institutions that give poor people greater access to financial services. Includes case studies of successful programmes from Asia, Africa and Latin America.
Foreword, Mary Houghton / vii

Acknowledgments I ix

Contributors / xi

Abbreviations / xv

Introduction / 1

Part I Principles and Institutions for Microenterprise Finance / 9

1 Financial Services for Microenterprises: Principles and Institutions / l l

Elisabeth Rhyne and Maria Otero

2 Savings Mobilization and Microenterprise Finance: The Indonesian

Experience / 27

Marguerite S. Robinson

3 Principles of Regulation and Prudential Supervision and Their

Relevance for Microenterprise Finance Organizations / 55

Rodrigo A. Chaves and Claudio Gonzalez-Vega

4 The Process of Institutional Development: Assisting Small Enterprise

Institutions Become More Effective / 76

Elaine L. Edgcomb and James Cawley

5 The Evolution of Nongovernmental Organizations Toward Financial

Intermediation / 94

Maria Otero

6 A New View of Finance Program Evaluation / 105

Elisabeth Rhyne

Part II Methodologies for Microenterprise Finance / 117

7 The Solidarity Group Experience Worldwide / 119

Shari Berenbach and Diego Guzmayi

8 Credit Unions: A Formal-Sector Alternative for Financing

Microenterprise Development / 140

John H. Magill

9 The Village Bank Methodology: Performance and Prospects / 156

Sharon L. Holt

10 Transformation Lending: Helping Microenterprises Become Small

Businesses / 185

Larry R. Reed and David R. Befus

vi THE NEW WORLD OF MICROENTERPRISE FINANCE

Part III A Closer Look at Successful Microenterprise Finance

Experiences / 205

11 Bank Rakyat Indonesia's Unit Desa System: Achievements and

Replicability / 206

James J. Boomgard and Kenneth }. Angell

12 The Creation of BancoSol in Bolivia / 229

Amy ]. Glosser

13 The Association of Solidarity Groups of Colombia. Governance and

Services / 251

Arelis G6mez Alfonso with Nan Borton and Carlos Castello

14 The Juhudi Credit Scheme: From a Traditional Integrated Method to

a Financial Systems Approach / 268

Albert Kimanthi Mutua

Bibliography / 277

Index I 295
Maria Otero Maria Otero is the associate director of ACCION International, a U.S based organization specializing in microenterprise development.
Elizabeth Rhyne Elizabeth Rhyne is an independent consultant specializing in small and microenterprise development and finance. She is the author or coauthor of books on the U.S Small Business Administration and on government credit policy.